Franklin Booth: Silent Symphony (Paperback)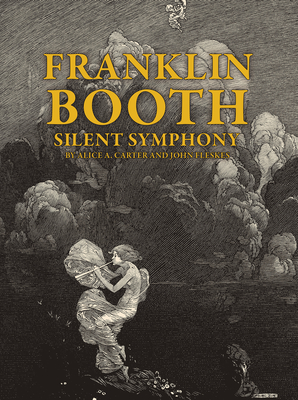 Description
---
Franklin Booth: Silent Symphony is a massive,
304-page book featuring over 400 pieces that span the artist's entire career.
Accompanying photos of Franklin Booth (1874-1948), his family, friends and
colleagues--along with illustrations by his peers and inspirations--add nearly fifty
more images. A new essay by the award-winning illustrator and professor Alice
A. Carter delves into Booth's life. This biography highlights his childhood in
Indiana, family life and the earliest days of his professional career, his road
trips, studio life and teaching career with intimate stories and much more.
Quotes of first-hand encounters with Booth by his students, friends and fellow
artists also are shared. Pen-and-ink drawings cover a
fifty-year span--from Booth's earliest days to his final works. These include his
story illustrations for top magazines of the time, plus a diverse and rare
assortment of pieces made for poems, advertisements and prints. Book
illustrations completed in color as well as pen-and-ink also are featured,
along with rare sketches for an unrealized project. All art was scanned and
photographed from its original source material using the latest technology and
has been painstakingly prepped for this publication. Franklin
Booth's meticulous and unique pen technique has been revered by artists and
students for the last hundred years. No one has ever been able to duplicate his
style. Booth utilized his own life, philosophies and experiences as vehicles to
project his thoughts to the viewer, which makes his work deeply compelling and
infused with his respect for nature and art. He always listened to his own
voice and developed a style that was not a natural product of his era. This
allowed his work to become timeless and to continue capturing audiences today. Franklin
Booth's influence can still be seen in modern comic books, fantasy illustrations,
concept art and films. The magnitude of his art is made for the big screen,
with his figures in epic scenes. His work has made its way through decades of
shifting genres and changes in the art world and is still as immediate today as
it was in the early twentieth century.