Radiant Fugitives: A Novel (Hardcover)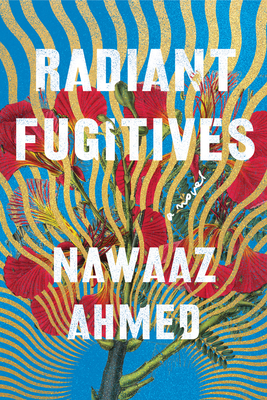 $27.00

ON HAND in at least ONE of our stores. Click through or call for up-to-the-minute availability.
August 2021 Indie Next List
---
"Two sisters and their mother are reunited as the eldest sister is about to give birth, but they struggle to find common ground. Brilliantly told through the voice of the unborn child, love, loss, politics, faith, sexuality, and race intersect across decades and continents."
— Jan Blodgett, Main Street Books (NC), Davidson, NC
Description
---
A BEST BOOK OF THE MONTH: ENTERTAINMENT WEEKLY, THE WASHINGTON POST, TIME, OPRAH DAILY, AND NYLON

In the last weeks of her pregnancy, a Muslim Indian lesbian living in San Francisco receives a visit from her estranged mother and sister that surfaces long held secrets and betrayals in this "sweeping family saga . . . with the beautiful specificity of real lives lived, loved, and fought for" (Entertainment Weekly).

Working as a consultant for Kamala Harris's attorney general campaign in Obama-era San Francisco, Seema has constructed a successful life for herself in the West, despite still struggling with her father's long-ago decision to exile her from the family after she came out as lesbian. Now, nine months pregnant and estranged from the Black father of her unborn son, Seema seeks solace in the company of those she once thought lost to her: her ailing mother, Nafeesa, traveling alone to California from Chennai, and her devoutly religious sister, Tahera, a doctor living in Texas with her husband and children.

But instead of a joyful reconciliation anticipating the birth of a child, the events of this fateful week unearth years of betrayal, misunderstanding, and complicated layers of love—a tapestry of emotions as riveting and disparate as the era itself.

Told from the point of view of Seema's child at the moment of his birth, and infused with the poetry of Wordsworth and Keats and verses from the Quran, Radiant Fugitives is a moving tale of a family and a country grappling with acceptance, forgiveness, and enduring love.
About the Author
---
NAWAAZ AHMED was born in Tamil Nadu, India. Before turning to writing, he was a computer scientist, researching search algorithms for Yahoo. He holds an MFA from University of Michigan–Ann Arbor and is the winner of several Hopwood Awards. He is the recipient of residencies at MacDowell, Yaddo, Djerassi, and VCCA. He's also a Kundiman and Lambda Literary Fellow. He currently lives in Brooklyn.
Praise For…
---
Book Riot, A Best Book of the Year
A Booklist Best Book of the Year
A USA Today Book Not to Miss
A Best Book of the Month in Entertainment Weekly, The Washington Post, Time Magazine, Oprah Daily, Alta Journal, Nylon

"Stand back and applaud Ahmed, a writer of vast ambition, who wants nothing less than to reshape the American novel." —Kamila Shamsei, The New York Times Book Review

"A child is born in America, the son of an immigrant South Asian lesbian mother and a Black father. Through that child's eyes we learn about a family fractured by prejudice and loss; a family making new lives for themselves in the West even as they remain haunted by the religious and cultural expectations of their homeland." —Bethanne Patrick, The Washington Post

"A sprawling, compelling novel set in San Francisco during Barack Obama's presidential campaign and first year in office . . . Thanks to Ahmed's vivid prose and his capacity to write heated dialogue, his dive into late-2000s politics is anything but dull . . . The novel is a reminder that, even when history is less than flagrantly obvious, each of us is mired in it, and shaped by it, from birth . . . Radiant Fugitives suggests that public life is like the air we breathe: utterly necessary to survival, but different from—and larger than—any individual self." —Lily Meyer, The Atlantic

"Astounding." —Time

"Tremendous . . . In the microcosm of one fractured family and its disturbing dynamics, Ahmed explores the complexities of kin who have divergent values and beliefs, and links those conflicts to broader themes of sexuality, religion and race. His novel captures the emotions that divide us, and delves into how these differences might be overcome . . . Radiant Fugitives will inspire readers to seek empathy, withhold judgment, accept our flawed humanity and marvel at the miracle of being alive." —Katherine Read, San Francisco Examiner

"Fine writing . . . Ahmed creates vivid, three-dimensional characters who are inexorably caught up in the reality of the larger political world." —Barbara Lane, San Francisco Chronicle

"[A] sweeping family saga . . . [Radiant] Fugitives teems with the beautiful specificity of real lives lived, loved, and fought for—a genuinely radiant debut." —Leah Greenblatt, Entertainment Weekly

"A complex web of family love and betrayal connects the characters of Nawaaz Ahmed's rich debut novel Radiant Fugitives . . . The resulting tale is as poetic and multi-layered as the characters themselves." —Lauren Puckett-Pope, Elle

"Nawaaz Ahmed's Radiant Fugitives (Counterpoint, August 3) is expansive, graceful, and astounding in its tenderness; it's a novel that untangles the infinite layers a love can conjure." —Bryan Washington, Vulture

"Guaranteed to entertain and engage." —Vanity Fair

"A stirring, polyphonic novel that taps Eastern and Western literary influences." —Hamilton Cain, Oprah Daily

"In heady, cultivated prose, Ahmed has penned a multifaceted, multigenerational novel that asks some of our fractured world's most probing questions . . . Radiant Fugitives reminds us to 'seek sustenance only in the true and truly beautiful (and) to question everything else—rituals, tradition, faith, ties.'" —Alexis Burling, San Francisco Chronicle

"Hugely ambitious yet supremely accomplished, Radiant Fugitives grapples with politics, race and religion, while charting the progress of three generations of a Muslim Indian family. From its startling opening line to its stunning conclusion, the book is a stimulating and often affecting read, and heralds the arrival of a prodigious new talent . . . Ahmed's vividly drawn characters and their thoughts and deeds come to us by way of a remarkable narrative voice—that of Seema's newborn (and at times unborn) son Ishraaq . . . A bold and richly rewarding debut novel." —Malcolm Forbes, The National

"Nawaaz Ahmed's remarkable debut is both a profound meditation on political and social injustices, and an intimate, delicately wrought examination of the complications inherent to issues of desire, identity, and family . . . Political and poetic, Ahmed's novel is a provocative meditation on forgiveness, compassion, and family." —Kristin Iversen, Refinery29

"A stunning examination of family, sacrifice, and empathy." —Alta

"An expansive family saga enriched by brilliantly wrought characters and a dazzling lyricism . . . Ahmed digs deep into his characters' memories to enchantingly blend the past and present, while modulating the intricacies of their relationships with care and mastery . . . Ultimately, Radiant Fugitives paints a broad portrait, at turns hopeful and despairing, of a family—and a country—testing its capacity for change." —Giancarlo Latta, Lambda Literary

"Ahmed's story is, simply put, brilliant. Exploring family traditions, religion, politics, sexuality, and more, this book highlights current issues in a brand new way. While some people come to books for the plot, readers should come to this book for the brilliancy of the craft Ahmed displays." —Adam Vitcavage, Debutiful

"I've never read a novel like Nawaaz Ahmed's Radiant Fugitives, and, I kid you not, I've been waiting for this tremendous, complex, moving novel for years, but never expected to receive it . . . There is so much of life in this book." —Anita Felicelli, Electric Literature

"This rich, unafraid debut novel offers a masterclass in perspective-taking and will leave readers feeling all the things . . . Ahmed's impressive insight into his characters' lives is lifted up by a lovely use of intelligent and beautiful language. Additionally, the author's project of showing his characters honestly and authentically in the full ranges of their different and shared humanities succeeds in meaningful ways. Recommended for readers who enjoy multi-generational epics with deep emotionality." —Booklist (starred review) 

"This dazzling, heartrending debut follows two Indian sisters and their mother as they work to patch up fractures in their family . . .  Ahmed brilliantly maps the tension between the three women with emotional acuity, and as Seema's pregnancy unfolds, Ahmed slowly builds to a showdown, culminating in a shattering and unforgettable conclusion. This is a gem." —Publishers Weekly (starred review)