Deceit and Other Possibilities: Stories (Paperback)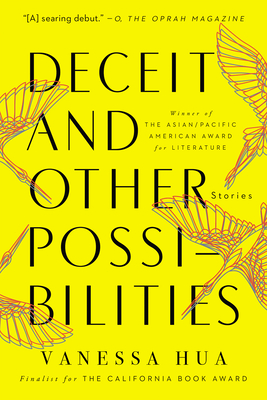 Description
---
"[A] searing debut." —i>O, The Oprah Magazine



In her powerful collection, first published in 2016 and now featuring new stories, Vanessa Hua gives voice to immigrant families navigating a shifting America. Tied to their ancestral and adopted homelands in ways unimaginable in generations past, these memorable characters span both worlds but belong to none, illustrating the conflict between self and society, tradition and change. This all–new edition of Deceit and Other Possibilities marks the emergence of a remarkable writer.
About the Author
---
Vanessa Hua is a columnist for the San Francisco Chronicle and the author of A River of Stars. A National Endowment for the Arts Literature Fellow, she has also received a Rona Jaffe Foundation Writers' Award, the Asian/Pacific American Award for Literature, the San Francisco Foundation's James D. Phelan Award, and a Steinbeck Fellowship in Creative Writing. Her work has appeared in publications including The New York Times, The Atlantic, and The Washington Post. Find out more at vanessahua.com.
Praise For…
---
Praise for Deceit And Other Possibilities

Winner, Asian/Pacific American Award for Literature • Finalist, California Book Award
A New York Times Book Review Editors' Choice
One of The Millions's Most Anticipated Books of the Year
BookBub, 1 of 27 of the Best Short Stories of All Time


"Hua covers an impressive range of life circumstances . . . These shifts in context are handled artfully; you can tell the author is dedicated to getting the details right . . . Inventive codes of communication—dogged in their attempts to convey respect, honesty, affection—abound throughout the collection, laying bare the burdens of the unspoken." —Jac Jemc, The New York Times Book Review

"Dazzling . . . Hua writes with tenderness, humor, and empathy, imbuing her stories with lovely turns of phrase . . . Fans of Hua's acclaimed first novel, River of Stars (2018), will savor these unforgettable stories." —Kirkus Reviews (starred review)



"This searing debut is about immigrants navigating a new America." —O, The Oprah Magazine



"Profoundly moving, and impossible to forget...a truly impressive debut." —Nylon


"Sharp, insightful, witty, and heartbreaking . . . Her assurance with pacing and character prove that she's a master of the short story format." —Hanh Nguyen, Salon

"Exploring immigration and the complex relationship between self and society, the characters in this collection reckon with borders—in all their permutations. Hua's engaging prose makes for a quick but deeply resonant read." —Sarah Neilson, The Seattle Times

"The men, women and children in Hua's moving debut often find themselves straddling the volatile fault lines between desire and shame, decorum and rage... She has a deep understanding of the pressure of submerged emotions and polite, face–saving deceptions. The truth comes out, sometimes explosively, sometimes in a quiet act of courage." —San Francisco Chronicle

"These short stories are about a manipulative 'prophet' who wants his own brush with stardom, selfish men and the women they don't deserve, and a hopeful Stanford prospective pushed to the edge. Somewhat inspired by real–life events, they're a testament to Hua's own curiosity about the strange things that happen in our world that eventually disappear from the news—only to be resurfaced in fiction." —Grace Li, SF Weekly

"An intriguing collection...each of her protagonists is never quite grounded, caught between multiple cultures and countries. Each hides beneath layers of deceit, clinging to lies that enable survival....Hua is a writer to watch." —Booklist



"First partially published in 2016 by Willow Books, and now with new stories, Deceit and Other Possibilities is a reissued collection from Counterpoint. The stories I read in 2016 are a marvel; I'm excited to read the rest." —R. O. Kwon, Electric Literature, 1 of 56 Books by Women & Nonbinary Writers of Color to Read This Year

"Hua writes with sophistication and the punch of the immigrant experience today . . . exuberant stories filled with nuance and fresh detail." —LitHub



"Exactly what we need to be reading in this country right now, and probably always. If I had to choose one word to describe Hua's writing style, it would be personable — you actually feel like her narrators are sitting across the sofa from you, popping open the tab of a soda can as they prepare to tell you their story . . . funny and sad, quick–witted and thought provoking." —Bustle, the 26 Best Literary Debuts By Women in the Last 5 Years

"A great writer, subversively funny...characters that don't look anything like 'model minorities' . . . readable and human." —Buzzfeed

"Shrewd...hilarious." —Vice

"These 10 stories follow immigrants to a new America who straddle the uncomfortable line between past and present, allegiances old and new." —The Millions "Most Anticipated" List

"Rare and generous." —Bitch Magazine

"Heart–wrenching, implacable....Hua draws the reader in with her power of perception." —Huffington Post, Book Club Pick of the Week

"There's little in the way of happy endings. But there is satisfaction in the utility of deceit and destruction, in the characters' recklessly reclaimed ability to turn up the heat themselves — even if it means they'll burn." —Los Angeles Review of Books

"Goes well beyond the buzzwords of identity politics and inflammatory headlines of the day." —i>Electric Literature

"The stories Hua presents are remarkably varied—complicating blanket stereotypes about ethnic cultures...Those kinds of subtle contradictions between overlapping identities—and the compromise they require—are what Hua's stories pinpoint and gracefully unravel." —East Bay Express

"Wry observations...compelling read." —Brooklyn Magazine

"Readers will feel hijacked by the lines that follow...Hua shows how immigrant families plead, persuade, adapt, and embrace their heritage." —San Francisco Magazine

"Gazes through the lens of recent immigrants to examine family relationships in all their beauty and complexity...pointed, memorable tales." —Stanford Magazine

"Diverse, cosmopolitan." —i>The Rumpus

"A wonderful sense of modernity." —San Jose Mercury News

"Fast–paced, dazzling, smart and fun, Vanessa Hua's debut collection illustrates the insanities and heartbreaks on both sides of the Pacific." —Gary Shteyngart, author of Lake Success and Little Failure

"Complicated, cosmopolitan and utterly contemporary . . . these stories will jump right off the page into the reader's imagination."—Margot Livesy, author of Mercury and The Flight of Gemma Hardy

"Deceit and Other Stories gives us characters whose lives are constrained and yet also enriched by different borders, cultures, and traditions. A bracing and beautiful debut, full of fire and light." —Laila Lalami, author of the forthcoming The Other Americans and The Moor's Account

"Vanessa Hua inhabits in graceful and heartbreaking detail the people of her stories: strivers and betrayers, lovers and the landless, all of them on their way to transcendence in her hands." —Susan Straight, author of Between Heaven and Here