Only the River: A Novel (Hardcover)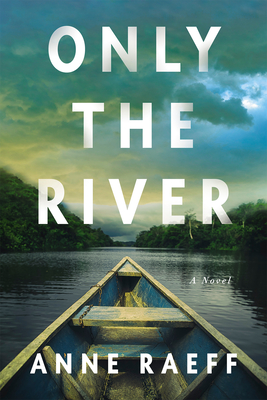 $26.00
Temporarily Unavailable
Description
---
A family displaced by World War II finds a new home in Central America, only to watch their fortunes rise and fall on the back of a revolution—from the California Book Award silver medalist and Simpson Literary Prize finalist.

Fleeing the ravages of wartime Vienna, Pepa and her family find safe harbor in the small town of El Castillo, on the banks of the San Juan River in Nicaragua. There her parents seek to eradicate yellow fever while Pepa falls under the spell of the jungle and the town's eccentric inhabitants. But Pepa's life―including her relationship with local boy Guillermo―comes to a halt when her family abruptly moves to New York, leaving the young girl disoriented and heartbroken.

As the years pass, Pepa's and Guillermo's lives diverge, and Guillermo's homeland slips into chaos. Nicaragua soon becomes engulfed in revolutionary fervor as the Sandinista movement vies for the nation's soul. Guillermo's daughter transforms into an accidental revolutionary. Pepa's son defies his parents' wishes and joins the revolution in Nicaragua, only to disappear into the jungle. It will take decades before the fates of these two families converge again, revealing how love, grief, and passion are intertwined with a nation's destiny.

Spanning generations and several wars, Only the River explores the way displacement both destroys two families and creates new ones, sparking a revolution that changes their lives in the most unexpected ways.
About the Author
---
Anne Raeff's short story collection, The Jungle Around Us, won the 2015 Flannery O'Connor Award for Short Fiction, was a finalist for the California Book Award, and was named one of the 100 Best Books of 2016 by San Francisco Chronicle. Her novel Winter Kept Us Warm was awarded the California Book Award's Silver Medal in Fiction, was a finalist for the Simpson Literary Prize, and was a finalist for the Northern California Book Award. Her stories and essays have appeared in New England Review, ZYZZYVA, and Guernica, among other places. She lives in San Francisco with her wife, Lori, Juztice, and their two cats. Find out more at anneraeff.com.
Praise For…
---
"Epic and cinematic, wrought and soulful, it is a deeply serious novel, yet full of tenderness . . . its traces will haunt a reader's heart and mind." —Joan Frank, The Washington Post

"An expert storyteller, Raeff deftly draws readers into the worlds, however big or small, that her characters inhabit." —Erica Flint, San Francisco Chronicle 

"It is wonderful to see multi-generational narratives that involve queerness as fluidly as queerness happens—that is to say, queerness as normalized . . . We need more depictions of love like this, more depictions of landscape like this, more depictions of what love can look like when it is told from many angles—with both the light and the dark . . . The stories Raeff tells, and the fluency with which they are told, earn their place in a canon that is timeless, classic, and necessary. This is a triumph of a novel and a must-read for our times." —July Westhale, Lambda Literary 

"In this novel, Anne Raeff weaves a multigenerational tale of love and war while at the same time casting a magic spell. Her authorial voice is incantatory. Characters and events caught in recent tragedies take on aspects of myth. The novel feels unique, timely, and yet timeless. I couldn't put it down." —Elizabeth Farnsworth, author of A Train Through Time

"Anne Raeff is a master of the family novel, and of the diaspora novel, and of the novel that spans decades and continents. Is there nothing she can't do? With Only the River she gives us, in her trademark exquisite prose, the deeply moving story of two families joined and separated by a tiny patch of land in Nicaragua, a country as passionate and divided as the unforgettable characters who populate this marvelous book." —Ann Packer, author of The Children's Crusade