A Complicated Kindness (Paperback)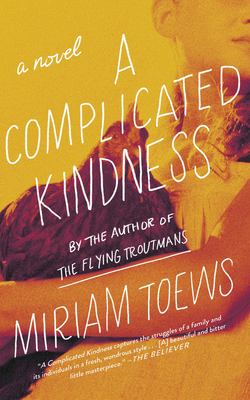 $16.95
ON HAND in at least ONE of our stores. Click through or call for up-to-the-minute availability.
Description
---
"A Complicated Kindness captures the struggles of a family and its individuals in a fresh, wondrous style . . . A] beautiful and bitter little masterpiece." --The Believer Left alone with her sad, peculiar father, Nomi Nickel's days are spent piecing together why her mother and sister have disappeared and contemplating her inevitable career at Happy Family Farms, a chicken slaughterhouse on the outskirts of East Village, a town founded by Mennonites on the cold, flat plains of Manitoba, Canada. This darkly funny novel is the world according to Nomi, a bewildered and wry sixteen-year-old trapped in a town governed by fundamentalist religion and in the shattered remains of a family it destroyed. In Nomi's droll, refreshing voice, we're told the story of an eccentric, loving family that falls apart as each member lands on a collision course with the only community any of them have ever known. "A darkly funny and provocative novel." --O, the Oprah Magazine
About the Author
---
MIRIAM TOEWS is the author of seven novels: All My Puny Sorrows, Summer of My Amazing Luck, A Boy of Good Breeding, A Complicated Kindness, The Flying Troutmans, Irma Voth, and Women Talking, and one work of nonfiction, Swing Low: A Life. She is a winner of the Governor General's Award for Fiction, the Libris Award for Fiction Book of the Year, the Rogers Writers' Trust Fiction Prize, and the Writers Trust Marian Engel/Timothy Findley Award. She lives in Toronto.