Still Born (Hardcover)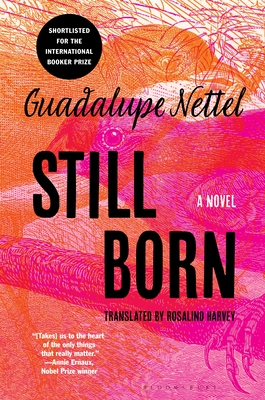 Staff Reviews
---
September 2023 Bookseller's Choice
"I've loved Nettel's work since reading her short story collection Natural Histories and have read everything of hers since. Last summer, I was too impatient to wait for the English release of Still Born, so I went to the library to check out the original Spanish edition. After reading it, I knew I would revisit the book once Rosalind Harvey's translation hit the shelves.
Shortlisted for the International Booker Prize, Still Born builds a nuanced portrait of two friends who embrace or reject the motherhood in various ways. Many narratives on motherhood fail to acknowledge ambivalence toward it, but Nettel's straighforward prose captures that emotion and interrogates the assumptions and expectations surrounding caretaking.
Both tender and philosophical, Still Born is a read for fans of Valeria Luiselli, Shelia Heti, and Rachel Cusk."- Katie
— From
Monthly Bookseller's Choice
Description
---
Shortlisted for the 2023 International Booker Prize

A profound novel about motherhood, friendship, and the power of community from "one of the leading lights in contemporary Latin American literature" (Valeria Luiselli, author of Lost Children Archive).

Alina and Laura are independent and career-driven women in their mid-thirties, neither of whom have built their future around the prospect of a family. Laura is so determined not to become a mother that she has taken the drastic decision to have her tubes tied. But when she announces this to her friend, she learns that Alina has made the opposite decision and is preparing to have a child of her own.

Alina's pregnancy shakes the women's lives, first creating distance and then a remarkable closeness between them. When Alina's daughter survives childbirth – after a diagnosis that predicted the opposite – and Laura becomes attached to her neighbor's son, both women are forced to reckon with the complexity of their emotions, their needs, and the needs of the people who are dependent upon them.

In prose that is as gripping as it is insightful, Guadalupe Nettel explores maternal ambivalence with a surgeon's touch, carefully dissecting the contradictions that make up the lived experiences of women.
About the Author
---
Guadalupe Nettel is the author of four international-award winning novels: El huésped , The Body Where I was Born, After the Winter, and Still Born; and three collections of short stories. Her work has been translated into more than ten languages and has appeared in publications such as the New York Times, Granta, The White Review, and many others. She currently lives in Mexico City where she's the director of the magazine Revista de la Universidad de México.
Praise For…
---
"Haunting . . . A heart-racingly intense journey." —New York Times Book Review

"Blurs the lines between parents and caregivers, between family members and strangers, between mother and not-mother . . . features deep and tumultuous relationships . . . Still Born argues . . . that, at certain moments, it is incumbent upon everyone to presume, to pry, to push your way into the hallway. You don't have to be a mother-in fact, maybe you shouldn't be. But you have to do something for whomever you find in, or near, your nest." —The New Yorker

"With a twisty, enveloping plot, the novel poses some of the knottiest questions about freedom, disability, and dependence-all in language so blunt it burns." —International Booker Prize Judges

"Guadalupe Nettel is a brilliant anatomist of love and perversity, and each new book is a revelation." —Katie Kitamura, author of INTIMACIES

"Guadalupe Nettel renders with great veracity life as it is encountered in the everyday, taking us to the heart of the only things that really matter: life, death and our relationships with others." —Annie Ernaux, Nobel Prize winning author of THE YEARS

"Nettel is one of the leading lights in contemporary Latin American literature. ... profound and penetrating." —Valeria Luiselli, author of LOST CHILDREN ARCHIVE

"Still Born complicates the idea of having children . . . fascinating . . . a book about the way caregiving can seep, imperfectly, into a person's life." —The Washington Post

"Timely and nuanced questions of motherly and sibling love float through . . . [a] sneakily profound book . . . Nettel's prose is clear; Harvey's translation is elegant, and the stories Laura tells are straightforward." —Booklist

"The prose, which appears in an elegant translation by Rosalind Harvey, retains a matter-of-factness, and in some places a synoptic quality that is rarely freighted with sadness or despair. … It's friendship, not crisis, that emerges as the novel's focal point. … Nettel… seems to be saying that 'normal mothers' do think ugly thoughts-or rather, that there is no such thing as a 'normal mother.' There is a strong tradition of works that connect maternal ambivalence to horror tropes-Rosemary's Baby, The Fifth Child, We Need to Talk about Kevin-but Still Born is different. … Nettel is making a case for chosen kinship." —Sarah Resnick, London Review of Books

"Using spare, potent prose, Nettel mines the complexities of feminism, caregiving, and what it means to love unconditionally . . . This will resonate with readers." —Publishers Weekly

"Nettel describes the realities of her characters' lives with a compassionate but unsparing eye. Every mother depicted is fully human, not selfless and saintly but a complex individual with mixed, even contradictory feelings. There's joy here and camaraderie, but there are no easy solutions. … A deeply felt, refreshingly honest story of two friends finding their ways down different paths." —Kirkus Reviews

"It's immediately apparent why Valeria Luiselli calls Nettel 'one of the leading lights in contemporary Latin American literature.' I can't wait to read the rest of her works in translation." —Lit Hub

"Endlessly readable yet profoundly insightful." —Ms. Magazine

"I love the work of Guadalupe Nettel, one of Mexico's greatest living writers. Her fiction is brilliant and original, always suffused with sensuality and strange science." —Paul Theroux, author of THE MOSQUITO COAST

"Guadalupe Nettel reminds us that there is nothing stranger than our existence lived in containers of meat, blood and madness." —Mariana Enríquez, author of The Dangers of Smoking in Bed

"Nettel is free. She has succeeded in creating an audacious narrative style all her own, a singular and fearless way of being in the world. An essential voice of the new Latin American literature." —Enrique Vila-Matas, author of Mac's Problem

"Still Born is an astonishingly elegant, intelligent, affecting novel, which has stayed in my mind from the moment I began it to long after I finished. I felt a huge sense of relief that I had encountered a work of art about ambivalence in mothering which encompassed a true authentic range of emotions and curiosities – vanity, aggression, jealousy and selfishness – with sanguine acceptance, as well as the beautiful and difficult project of giving and sustaining love which marks all our lives, mothers or otherwise." —Megan Nolan, author of Acts of Desperation

"Still Born is a rare thing: an unsentimental analysis of the ambivalences and moral complexity of motherhood. It is a book which demands to be discussed, at length, with friends, and I longed to do so." —Jessie Greengrass, author of The High House

"I read Still Born in less than a day. It is perfect: deeply feminist, wise, funny and alive. Nettel is generous to each of her characters, and in prose that is crisp and light. I love this book." —Yara Rodrigues Fowler, author of there are more things

"Deeply intelligent, Still Born is a propulsive novel with a depth of feeling so woven into the language that it never feels worn or applied. The denatured quality of the tone means the ideas of the book – the suspicion of the body as having incompatible desires from the mind; the impulses versus the aversions to child-having; the complexities of the mother-child dynamic – all just absolutely sing. I loved it." —Susannah Dickey, author of Common Decency

"Still Born raises provocative questions about the ability of women to shape their own destinies while finding fulfillment in helping to shape the lives of others." —Bookreporter.com