Her Honor: Stories of Challenge and Triumph from Women Judges (Paperback)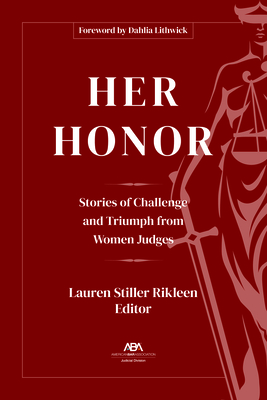 $24.95

NOT on our shelves now. Usually ships from warehouse in several days.
Description
---
Her Honor - Stories of Challenge and Triumph from Women JudgesEdited by Lauren Stiller Rikleen
At a time when surveys reveal declining trust in our courts, this book offers reasons for hope and even pride.
Her Honor
features a collection of personal stories by and about some of the country's most respected female judges. Each chapter author openly shares nuanced stories of challenges and successes, including the inequality, bias, and other barriers they faced and overcame in their lives. The 25 judges featured in
Her Honor
are from all levels of the state and federal courts, including Chief Judges and two Supreme Court Justices. Their moving stories will be all too recognizable by women who may currently be experiencing similar challenges and biases in their own career.
Her Honor
also demonstrates how the best of our judges share a passion for ensuring an accessible and fair system of justice, without a political agenda. They reveal a deep compassion for humanity along with an abiding respect for the law, respecting precedent but acting with courage if the law offers a way forward.
All the judges in this book have lived lives of deep influence. The stories shared will extend that influence further and inspire future generations to persevere in their careers during even the most difficult times.
About the Author
---
Lauren Stiller Rikleen, president of the Rikleen Institute for Strategic Leadership, is a nationally known speaker, trainer, author, and consultant focused on building a diverse, respectful, and inclusive workplace culture. She is also a board member and interim executive director of Lawyers Defending American Democracy, an organization devoted to the protection of democracy and the rule of law. Lauren is a former law firm equity partner and founder of the firm's environmental law practice. For 20 years, she was recognized in Best Lawyers in America; she was also recognized in Chambers USA America's Leading Business Lawyers and in Massachusetts Super Lawyers. Lauren's extensive background of community and professional leadership includes serving as a former president of the Boston Bar Association and a former trustee of Clark University. Within the American Bar Association, she co-chairs the ABA Women's Caucus and is a member of the Standing Committee on Publishing Oversight. Among her many past ABA leadership roles, Lauren is a former member of the Board of Governors, the Commission on Women in the Profession, and the ABA Journal Board of Editors. She is also a former chair of the Section of Civil Rights & Social Justice. Lauren is the recipient of numerous awards, including the prestigious American Bar Association's Margaret Brent Women Lawyers of Achievement Award presented by the Commission on Women in the Profession, the Lelia J. Robinson Award from the Women's Bar Association of Massachusetts, and the Boston College Alumni Award for Excellence in Law. She was also named by Public Media's Next Avenue as one of the 50 Most Influential People in Aging. The author of more than 200 articles, including topical commentary and op-ed pieces, Lauren has written for or been interviewed by such publications and media outlets as: Fortune.com; the Harvard Business Review; BBC; Public Media's Next Avenue; The Washington Post; The Boston Globe; The New York Times; MSNBC; National Public Radio; The American Lawyer; The National Law Journal; and Law 360. Lauren's previous books are: The Shield of Silence: How Power Perpetuates a Culture of Harassment and Bullying in the Workplace You Raised Us - Now Work With Us: Millennials, Career Success, and Building Strong Workplace Teams Ladder Down: Success Strategies For Lawyers From Women Who Will Be Hiring, Reviewing, And Promoting You Ending the Gauntlet: Removing Barriers to Women's Success in the Law