All the Secrets of the World (Hardcover)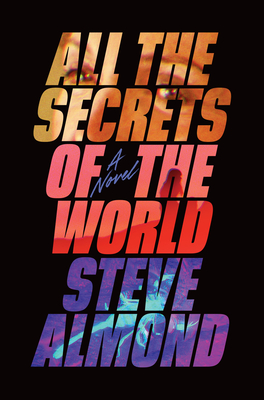 $28.00

NOT on our shelves now. Usually ships from warehouse in several days.
Staff Reviews
---
May 2022
Almond's first novel (after a bunch of non-fiction and story collections) is just good old-fashioned plot-driven storytelling. Worlds collide when 13-year-old Lorena, daughter of an undocumented immigrant living in Sacramento, gets invited to work on a school project at the home of blonde, wealthy Jenny Stallworth. Lorena catches the eye of Jenny's father Marcus, who seems to be struggling with boundary issues. Then Marcus mysteriously disappears and is thought to have been murdered. Into this mix Almond tosses a large cast of characters all with secrets of their own: Lorena's troubled gangster wannabe brother, an ambitious FBI agent, Jack Mormons, corrupt police and a broken criminal justice system. Oh, and Nancy Reagan and her astrologer.-kpr
— From
Monthly Bookseller's Choice
Description
---
"A breathtaking success . . . dazzling." --San Francisco Chronicle
" A] rollicking, wide-ranging, unpredictable novel--part crime story, part coming-of-age, part satire, part deadly serious." --Rebecca Makkai, Pulitzer finalist for The Great Believers
Who pays for the secrets we keep? For the lies we tell ourselves?
Lorena Saenz has just been paired with Jenny Stallworth for a school project by a teacher hoping to unite two girls from starkly different backgrounds. Jenny is pretty and popular, and Lorena is quickly drawn into the family's picture-perfect suburban lifestyle. Jenny's mother, Rosemary, is glamorous, but needy--she treats Lorena like a friend, if only to break up the monotony of lonely afternoons. Jenny's father, Marcus, spends his days teaching and his nights wandering the desert, absorbed in his research on the scorpions of Death Valley. Outwardly, they are the perfect family, poised for success in 1981 Sacramento at the dawn of a glorious American decade. Lorena finds her access intoxicating and alluring, a far cry from her life in the small apartment she shares with her single mother.
But the veneer is shattered when Marcus disappears. The prime suspect: Lorena's troubled older brother, Tony.
To uncover the truth, Lorena must embark on an unforgiving odyssey into the desert, into the secrets and lies of the Stallworth family, and the dark heart of America's criminal justice system. A shape-shifting social novel, All the Secrets of the World is a propulsive tour de force from a writer at the height of his powers.
"A breathtaking success . . . At times a race-to-the-finish mystery, this book can also rightly be categorized as a searing meditation on the multigenerational traumas endured by a family of undocumented immigrants . . . It is a dazzling magic trick that explains why the author reportedly took 30 years to complete the manuscript . . . the wait, it turns out, has been entirely worth it." --San Francisco Chronicle
About the Author
---
Steve Almond is the author of ten books of fiction and nonfiction, including the New York Times bestsellers Candyfreak and Against Football. He teaches Creative Writing at the Neiman Fellowship at Harvard and Wesleyan, as well as Hugo House, Grub Street, and numerous literary conferences. His essays and reviews have been widely published in The New York Times Magazine, The New York Times, The Boston Globe, The Los Angeles Times, GQ, The Wall Street Journal, Poets & Writers, Tin House, and Ploughshares. His journalism has received numerous awards including the top national prize for feature writing from the Society of Professional Journalists. His short stories have been anthologized in The Best American Short Stories, Best American Mysteries, Best American Erotica, and The Pushcart Prize. He serves as a literary correspondent for WBUR and appears on numerous podcasts. He lives in Arlington, Massachusetts.