Nein, Nein, Nein!: One Man's Tale of Depression, Psychic Torment, and a Bus Tour of the Holocaust (Hardcover)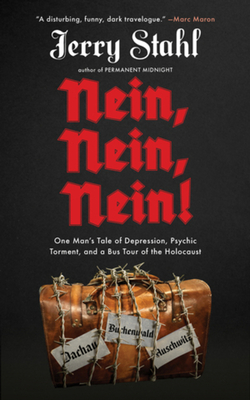 $26.95

Coming Soon. Pre-Order Now!
Description
---
A guided group tour to concentration camps in Poland and Germany allows Stahl to confront personal and historical demons with both deep despair and savage humor
"Mordantly funny . . . Fusing provocative insights with razor-edged wit, this offers a captivating take on a haunting chapter of history."
--Publishers Weekly, STARRED Review
"Gonzo meets the Shoah in this wildly irreverent--and brilliant--tour of Holocaust tourism . . . A vivid, potent, decidedly idiosyncratic addition to the literature of genocide."
--Kirkus Reviews, STARRED Review
In September 2016, Jerry Stahl was feeling nervous on the eve of a two-week trip across Poland and Germany. But it was not just the stops at Auschwitz, Buchenwald, and Dachau that gave him anxiety. It was the fact that he would be traveling with two dozen strangers, by bus. In a tour group. And he was not a tour-group kind of guy.
The decision to visit Holocaust-world did not come easy. Stahl's lifelong depression at an all-time high, his career and personal life at an all-time low, he had the idea to go on a trip where the despair he was feeling--out-of- control sadness, regret, and fear, not just for himself, but for the entire United States--would be appropriate. And where was despair more appropriate than the land of the Six Million?
Seamlessly weaving global and personal history, through the lens of Stahl's own bent perspective, Nein, Nein, Nein stands out as a triumph of strange-o reporting, a tale that takes us from gang polkas to tour-rash to the truly disturbing snack bar at Auschwitz. Strap in for a raw, surreal, and redemptively hilarious trip. Get on the bus.
About the Author
---
JERRY STAHL has written ten books, including the best-selling memoir Permanent Midnight, made into a movie with Ben Stiller; the essay collection OG Dad; and the novels Pain Killers; I, Fatty; Perv; Plainclothes Naked; Happy Mutant Baby Pills; and Bad Sex on Speed. A Pushcart Prize-winning author, Stahl's work has appeared in Esquire, Vice, the Believer, Tin House, Los Angeles Review of Books, and the New York Times, among other places. He has written extensively for film and television, including HBO's Hemingway & Gellhorn, which earned a Writers Guild Award nomination; Bad Boys II; and the cult classic Dr. Caligari; series credits include Maron, CSI, and Escape at Dannemora, for which he received an Emmy nomination. Stahl's writing has been widely translated, and he has taught with the InsideOUT Writers program for incarcerated youth, edited The Heroin Chronicles for Akashic Books, and participated in the documentary series, San Quentin Film School. He has two daughters, and lives with artist Zoe Hansen.