The Fabulous Fannie Farmer: Kitchen Scientist and America's Cook (Hardcover)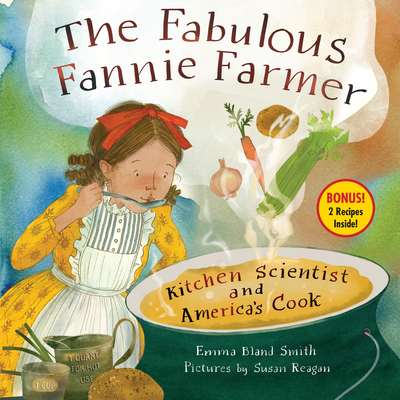 $18.99

Coming Soon. Pre-Order Now!
Description
---
Fannie Farmer, America's most famous cooking teacher, discovers that precise measurements are a recipe for cooking success in this STEAM picture book that includes two of her classic recipes.

When Fannie Farmer learned to cook in the late 1800s, recipes could be pretty silly. They might call for "a goodly amount of salt" or "a lump of butter" or "a suspicion of nutmeg." Girls were supposed to use their "feminine instincts" in the kitchen (or maybe just guess). Despite this problem, Fannie loved cooking, so when polio prevented her from going to college, she became a teacher at the Boston Cooking School. Unlike her mother or earlier cookbook writers, Fannie didn't believe in feminine instincts. To her, cooking was a science. She'd noticed that precise measurements and specific instructions ensured that cakes rose instead of flopped and doughnuts fried instead of burned. Students liked Fannie's approach so much that she wrote a cookbook. Despite skepticism from publishers, Fannie's book was a recipe for success.

Written with humor and brought to life with charming illustrations, this book explores the origins of Fannie Farmer's quintessentially American cookbook. A cookbook that was beloved because it allowed anyone to make tasty things, with no guessing, no luck—and certainly no feminine instincts—required.
About the Author
---
Emma Bland Smith is the author of numerous children's books, including Mr. McCloskey's Marvelous Mallards, a Bank Street Center for Children's Literature Best Book; The Pig War, winner of the Towner Award; and Journey, winner of the Cook Prize; as well as other fiction and nonfiction books for children. Emma is also a librarian.

Susan Reagan grew up with a passion to draw and later earned her BFA in illustration from the Columbus College of Art and Design. Susan has illustrated several picture books, including Ready or Not, Here I Come!, Revolutionary Prudence Wright, and The Brilliant Calculator.
Praise For…
---
"A charming book! An evocation of having fun cooking in the kitchen."—Anne Willan, author of Women in the Kitchen:Twelve Essential Cookbook Authors Who Defined the Way We Eat, from 1661 to Today, and founder of La Varenne Cooking School

"What a delightful read! Fannie Farmer's story is inspiring on so many levels. I can't wait to try the recipes with my own kid!"—Georgia Freedman, food writer, cookbook author, blogger at The California Table and coauthor of The Ranch Table