Electoral Bait and Switch: How the Electoral College Hurts American Voters and What Can Be Done about It (Paperback)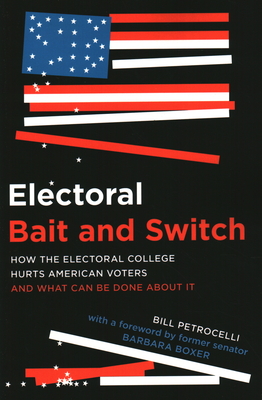 $15.95

ON HAND in at least ONE of our stores. Click through or call for up-to-the-minute availability.
Description
---
It's a system that now fosters massive inequality in voting rights and opens the door to manipulation of presidential elections by foreign and domestic enemies of democracy. Electoral Bait & Switch is prescriptive, and accessible to the general reader. The current Electoral-Vote system presents a severe and growing threat to democracy in the United States. It has thwarted the will of a majority of the voters twice in the last five presidential elections (2000 and 2016) by elevating to office a candidate who received only a minority of the vote. This system is a distortion of the system envisioned by Alexander Hamilton, James Madison and the other framers of the Constitution. If it is not challenged and overturned, we are likely to face a continual series of electoral and constitutional crises. The constitutional right of Americans to an equal vote in presidential elections is being violated by this system on a massive scale. The value of an individual vote varies as much as three-to-one from state to state, and there are no two states where voters have the same voting-power. The current Elector system discriminates heavily against minority and poorer voters. The winner-take-all method of allocating Electoral votes also results in large pockets of "useless votes" and a system in which where you vote counts for far more than how you vote. Most ominously, evidence is now clear that the Electoral-Vote system has opened the door for voter suppression and manipulation of elections by domestic and foreign conspirators.
About the Author
---
Bill Petrocelli is the co-owner with his wife, Elaine, of the nationally renowned bookstore Book Passage with stores in California in Corte Madera, Sausalito, and at the Ferry Building in San Francisco. Bill attended Oakland Public Schools and is a graduate of the University of California at Berkeley and the U.C. Law School. In addition to several years in private practice, he served as a California Deputy Attorney General and as the head of a poverty law office in Oakland, California. He served on the Board of the American Booksellers Association and as attorney for the Northern California Independent Booksellers Association, in which he successfully pursued a major price-discrimination suit against publishers. Recently, he was the plaintiff in a First Amendment case challenging a California law that threatened to interfere with the distribution of autographed books.