Running to Stand Still (Paperback)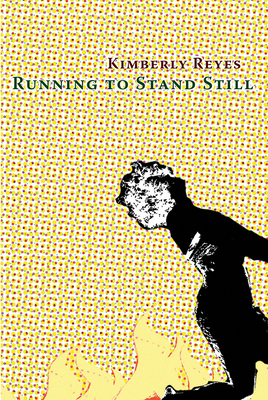 $17.95

Click the TITLE to view store availability
Description
---
Histories, stories, lyrics, aspirations, dreams, pressures, and images are spun into a musical tale through a site of convergence: the Black female body. Swarmed by external gazes and narratives, the inhabitant of this body uses her power to turn down this cacophony of noise and compose a symphonic space for herself. By breaching boundaries of racism, sexism, sizeism, colorism, and colonialism, these poems investigate the memories and realities of existing as Black in America. Building from poetic, journalistic, and musical histories, poet and essayist Kimberly Reyes constructs a complex and fantastic narrative in which she negotiates a path to claim her own power.

These poems teem with life, a life rich with many selves and many histories that populate in the voice of Reyes's poetic narrator. They sway between negotiations of hypervisibility and erasure, the inevitable and the chosen, and the perceived and the constructed. Reyes's poems offer sharp observations and lyrical movement to guide us in a ballad of reconciliation and becoming.
 
About the Author
---
Kimberly Reyes is the author of the award-nominated poetry collections Running to Stand Still and Warning Coloration. Her nonfiction book of essays Life During Wartime won the 2018 Michael Rubin Book Award. Published and anthologized in numerous, international outlets, Kimberly writes about identity, ecology, and sexuality, spending her time between Ireland, San Francisco and New York City. 
Praise For…
---
"Examining the Black female body through histories and stories, Reyes offers a lyric of restless music. Her preoccupation with the gaze of others and storytelling extends beyond boundaries, creating a layered narrative of power and self."
— Publishers Weekly

"Rich in literary and pop culture references, the voice of Running to Stand Still is both specific and wide-ranging. Quotations from artists as disparate as Frank Bidart and The Killers splice and introduce poems. In one section, Reyes repurposes screenshots of text messages; in another, partial strikethroughs enable multiple readings. Through this juxtaposing of different forms and language, Reyes weaves a deeply intimate portrait out of impossibly expansive themes: modern life, Black womanhood, family history, and technology."
— Poets & Writers

"While reading Reyes's profoundly affecting words, I saw myself as the you of this moment, of this book. I am compelled to help in carrying the baggage, this weight. I am grateful for having had the experience of moving through this labyrinth of consciousness. This is the important and necessary work of Running to Stand Still."
— Truong Tran, co-author of 100 Words

"These poems, with through lines of gender, race, adventure, desire, build into a deeply moving provocation of loss and discovery. The brilliance of these poems is their achievement of discomfit as they simultaneously travel distance and move inward. . . . The title of this collection is a promise: how poetry can at once run and stand still, and why that matters."
— Valerie Wallace, author of House of McQueen

"Pinballing between family lore, social media, and pop culture discourse, Reyes deconstructs the casual discourses of contempt her narrators are invited to embrace outside and within blood lines, however much 'birthright belonging / is the maim.' And yet, betrayed by the human desire to belong ('To be kept is to / be kept, and what you wanted'), they—she—never quite reach escape velocity: Running to Stand Still is thus the poignant record of an orbit, both victory and impasse."
— Tyrone Williams, author of As iZ

"In Running to Stand Still Kimberly Reyes excavates the many forces that shape(d) her speaker's black girl-to-womanhood. Several decades of pop lyrics bookend sections of vivid poems that combine matrilineal history with fully self-aware, contemporary survivalism. . . . Don't be fooled by her assertion that 'my narration is jerky, / preemptive, unreliable' - this is about as straight-talking a collection as you're likely to read this year."
— Irène Mathieu, MD, author of orogeny and Grand Marronage