Ramayana: An Illustrated Retelling (Hardcover)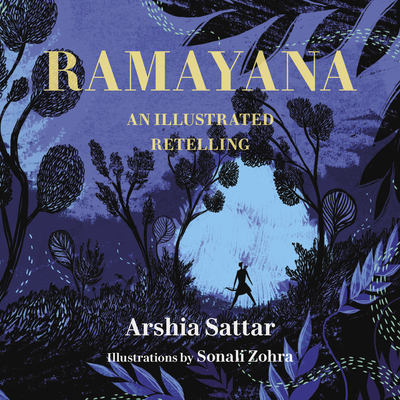 $22.99

NOT on our shelves now. Usually ships from warehouse in several days.
Description
---
One of the world's oldest and best-loved tales, now retold and illustrated in thrilling detail for readers of all ages.

Rama pulled the splendid arrow out of his quiver. It had been given to him long ago by the sage Agastya who had told him that he could use it only once and only for a great enemy. The incomparable arrow held the wind in its feathers, the sun and the moon in its shining tip, the earth in its shaft and the power of the doomsday fire in its flight.

Ramayana—an unforgettable tale of love, adventure, flying monkeys and god acting in the world of humans—has been treasured by readers around the world for thousands of years. Now in an authoritative, gripping retelling by the renowned Ramayana scholar Arshia Sattar, readers have a new chance to explore this classic's riches.

Rama is a brave young prince who is forced into exile. His brother Lakshmana and his wife, the beautiful princess Sita, loyally follow him into the depths of the mysterious forest, where they encounter strange and dangerous creatures. None is as terrifying as Ravana, the ten-headed demon king who kidnaps Sita and takes her to a fortified city in the middle of the ocean. To rescue her, Rama enlists the help of hundreds of thousands of magical monkeys and bears to fight the demon army and win her back. Even the gods gather to witness the harrowing battle. Will Rama and his friends prevail, and will Sita return to him? Only these captivating pages will tell…
About the Author
---
Arshia Sattar has a PhD in classical Indian literatures from the University of Chicago. Her translations from Sanskrit, The Ramayana of Valmiki and Tales from the Kathasaritsagara, have been published as Penguin Classics. She has also written books for children, including The Adventures of Hanuman.

Sonali Zohra studied fine art and photography and applies the principles of both to her work. From murals to illustration on ceramic, communication design, photography and illustration for books, whatever the medium, she tries to strike a balance between color, form and light.
Praise For…
---
"A classical Indian literature scholar offers a brief and engaging version of the ancient and beloved epic Hindu poem Ramayana. Based on oral tradition, the book narrates with poetic language the journey of the divine Rama as he rescues his beloved wife, Sita, after she was abducted by the evil, 10-headed demon king Ravana…. The author does an impressive job of portraying Lord Rama, a revered Hindu god, as a well-rounded figure with all the doubts, faults, and fallibility of a mortal, as when he tests Sita's loyalty and chastity on three different occasions…. Vibrant, detailed, and mystical illustrations showing ferocious rakshasas (demons) and graceful heroes enhance the text.... The fluid and evocative prose and nonstop action are sure to draw in those who already know and love this classic as well as providing an accessible introduction to readers unfamiliar with the story. Striking illustrations and a compelling narrative bring an important Indian tale of good and evil to young readers."
— Kirkus Reviews

"The crisp narrative, complemented by Sonali Zohra's vivid images, relates the timeless story of Rama's exile and triumphant return. Sattar, who has a Ph.D. in classical Indian literatures from the University of Chicago, reminds readers that while dharma (duty) tells us what we should do, it is karma (action) that determines what happens to us…. Recommended for ages 10 and up, the hardback is affordably priced."
— Murali Kamma

"An unforgettable tale of love [and] adventure…. in an authoritative, gripping retelling."
— Darshana Khiani

"Somehow in this modern English translation of Valmiki's text the story reads beautifully without any glitches, without any of those annoyingly forced attempts at putting down a living text in words. Instead what comes through is the incredible manner in which Arshia Sattar to retell these age-old stories but in the true spirit of a storyteller who is herself in sync with the stories. She has made it her own and made it available to a new generation of readers.... Ramayana for Children has been beautifully illustrated with double-page spreads by Sonali Zohra. There is something grungy-funky with the almost wood-cut like impressions that are very appealing. The illustrations complement the text well too.... A magnificent gift for children — to read, to treasure."
— Jaya Bhattacharji Rose

"As magical as any tale, this breathtaking ancient myth subtly reflects important messages about obedience, loyalty, love, courage, virtue, honor, friendship and what it is to face abandonment. Powerful and exciting in every way, Ramayna is, as it has always been, a story that broadens the reader's understanding of the world and how one should behave righteously as a human."
— Kendal Rautzhan

"This volume from Restless Books encapsulates the enormous foundational Indian epic Ramayana in a package written for older children and young adult readers. But it's accessible for all ages, and many adults ignorant of Indian legends, like me, will find it of interest, as well as visually striking… Sattar captures a number of the epic's moral lessons, presenting characters as avatars of courage, faithfulness, cruelty, and various kinds of fallibility. She doesn't gloss over the complexities of the human condition and the contradictions of character that can make life so difficult… Zohra's magnificent batik-like illustrations marry description and fancy. Dark mouthless masklike faces, ferocious warrior monkeys, terrifying demons, and evocative landscapes create a mystical world teeming with life and color, beauty and terror. They not only add a rich dimension to the story but stand on their own as beautiful works of art."
— Jon Sobel

"This is a good, exciting retelling of a very old story. If you have wondered who Hanuman and Rama are, here finally is your chance to find out. The story is written so it will be interesting for any age—even younger children will enjoy hearing it read to them…. there is a lot of action! There are some interpersonal interactions that are worth discussing and thinking about too."
— Miriam - Age 14