Franchise: The Golden Arches in Black America (Paperback)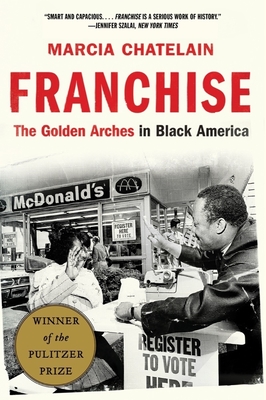 $18.95
Temporarily Unavailable
Description
---
WINNER • 2021 PULITZER PRIZE IN HISTORY

Winner • 2022 James Beard Foundation Book Award [Writing]



The "stunning" (David W. Blight) untold history of how fast food became one of the greatest generators of black wealth in America.
Just as
The Color of Law
provided a vital understanding of redlining and racial segregation, Marcia Chatelain's
Franchise
investigates the complex interrelationship between black communities and America's largest, most popular fast food chain. Taking us from the first McDonald's drive-in in San Bernardino to the franchise on Florissant Avenue in Ferguson, Missouri, in the summer of 2014, Chatelain shows how fast food is a source of both power—economic and political—and despair for African Americans. As she contends, fast food is, more than ever before, a key battlefield in the fight for racial justice.
About the Author
---
Marcia Chatelain is a professor of history and African American studies at Georgetown University, and is a leading public voice on the history of race, education, and food culture. The author of South Side Girls, Chatelain lives in Washington, DC.
Praise For…
---
[A] smart and capacious history. . . . Throughout this impressively judicious book, [Chatelain] is attuned to the circumstances that encouraged increasingly intricate ties between McDonald's and black communities across the country. This isn't just a story of exploitation or, conversely, empowerment; it's a cautionary tale about relying on the private sector to provide what the public needs, and how promises of real economic development invariably come up short. . . . Franchise is a serious work of history. . . . [Chatelain's] sense of perspective gives this important book an empathetic core as well as analytical breadth, as she draws a crucial distinction between individuals actors, who often get subjected to so much scrutiny and second-guessing, and larger systems, which rarely get subjected to enough.
— Jennifer Szalai, New York Times, "Times Critics Best Books of 2020"

An impeccably researched examination of McDonald's and how the franchise was once intended as a path to economic freedom in Black communities. A fascinating, overlooked perspective on a US institution.
— Karla Strand, Ms. Magazine

Well-written... Emphasizes how today's conversations around fast food in America were shaped by government policies, and examines how the fast-food industry is connected to Black Lives Matter and other social change movements.... Invaluable for those studying the intersections of race, economics, and business in the United States.
— Sarah Schroeder, Library Journal

Chatelain makes a convincing case that racial tension, the civil rights movement, and fast food all combined to change the dynamic of mostly black communities ignored by white power structures. Chatelain's impressive research and her insertion of editorial commentary will prove educational and enlightening for readers of all backgrounds. An eye-opening and unique history lesson.
— Kirkus Reviews

Franchise is a stunning story of post-1960s urban black America, a tale of triumph and good intentions, but also of tragic consequences for race relations, poverty, and dietary health. Marcia Chatelain has done superb research and writes as a great storyteller. This is an important book, showing that civil rights successes led to burgers under black ownership as much as ballots for social change. Chatelain makes us see black capitalism in all its mixed blessings.

— David W. Blight, Yale University, and author of the Pulitzer Prize-winning Frederick Douglass: Prophet of Freedom

Thanks to Marcia Chatelain, I'll never look at fast food the same way. She pairs burgers and fries with civil rights and black wealth, showing readers exactly what 'opportunity' in America really looks like.
— Alexis Coe, author of You Never Forget Your First: A Biography of George Washington

Marcia Chatelain uses the complex interrelationship of black communities with McDonald's to explore the history of American racism and the struggle for civil rights. Franchise is an eye-opener for anyone who cares about why diet-related chronic disease is more prevalent in these communities and what it is really like to be black in America.

— Marion Nestle, professor of nutrition, food studies, and public health at New York University, emerita, and author of Food Politics