How to Behave Badly in Elizabethan England: A Guide for Knaves, Fools, Harlots, Cuckolds, Drunkards, Liars, Thieves, and Braggarts (Paperback)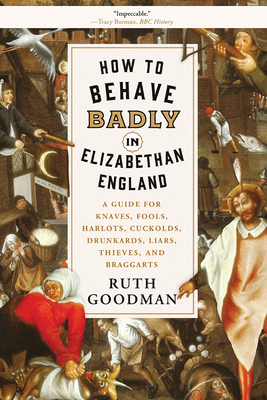 Description
---
Offensive language, insolent behavior, slights, brawls, and scandals come alive in Ruth Goodman's uproarious history for mischievous Anglophiles.
With this "impeccable" (BBC History) chronicle, acclaimed popular historian Ruth Goodman reveals a Renaissance Britain particularly rank with troublemakers. From snooty needlers who took aim with a cutting "thee," to lowbrow drunkards with revolting table manners, Goodman's "gleeful and illuminating" (Booklist, starred review) portrait of offenses most foul draws upon advice manuals, court cases, and sermons. Wicked readers will delight in learning why quoting Shakespeare was poor form, and why curses hurled at women were almost always about sex (no surprise there). "Accessible, fun, and historically accurate" (Publishers Weekly, starred review), How to Behave Badly is a celebration of one of history's naughtiest periods, when derision was an art form.
"Oh, how I wish Ruth Goodman could be my tutor. But settling in for one of her history lessons is better than second best." — Alicia Becker, New York Times Book Review
About the Author
---
Ruth Goodman is the author of multiple books including How to Be a Victorian. An historian of British life, she has presented a number of BBC television series, including Tudor Monastery Farm. She lives in the United Kingdom.