Best Women's Erotica of the Year, Volume 1 (Paperback)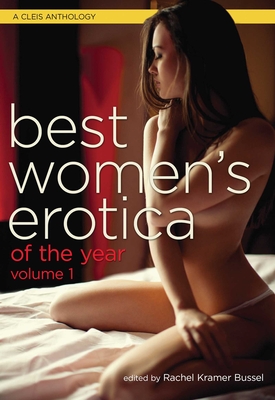 $21.95

NOT on our shelves now. Usually ships from warehouse in several days.
Description
---
Best Women's Erotica of the Year, Volume 1 delivers risky, romantic, heart-pounding thrills. Joyful, daring, and authentic, these steamy stories revel in erotic adventure, from the sparks between strangers to the knowing caresses of longtime lovers. These stories are not merely erotic but filled with strong characters and clever narratives showing how sexual experience is different for everyone. This anthology is a glorious celebration of the finest and friskiest female erotic fiction today.
About the Author
---
Rachel Kramer Bussel (rachelkramerbussel.com) is a writer, editor, event organizer, and erotica writing instructor. She's edited over 70 anthologies, including The Big Book of Orgasms, Come Again: Sex Toy Erotica, Dirty Dates, On Fire, Spanked, Please, Sir, and Please, Ma'am, and is the Best Women's Erotica of the Year series editor. Her nonfiction has been published in The New York Times, The Washington Post, Marie Claire, O, The Oprah Magazine, Elle.com, Salon, Slate, Time.com, The Village Voice and numerous other publications. Follow her @raquelita on Twitter and learn more about her writing workshops and consulting at EroticaWriting101.com.
Praise For…
---
"Edited for the first time by frequent anthology contributor and erotica veteran Bussel, this annual volume features short stories from a number of notable genre names, including L. Marie Adeline ("S.E.C.R.E.T." trilogy) and Tiffany Reisz ("The Original Sinners" series). Bussel makes a point in the introduction to emphasize that all 21 selections were chosen for their strong depictions of nuanced, intelligent female characters with whom readers should identify, offering erotica that titillates while it "respects your mind." The book lives up to that promise, opening with Tara Betts's poetic "A New Canvas," in which friends Angela and Troy redraw the lines of their relationship using their bodies for their canvas. With plenty of creative scenarios, styles, and positions, this impressive anthology is sure to be a hit among quality erotica fans." - Library Journal
"There's no bad writing here. It's all good--and a surprising percentage of it is also very good, understatedly original, quietly trenchant, colorfully curious, probing, poignant, powerful, from Valerie Anderson's Demimonde--an engagingly superb evocation of debauchery and kink in buttoned-up late-19th-century New York, to A New Canvas by Tara Betts and Drawn by Nic by Heidi Champa, both breathing in their cool inspirations from the gritty world of contemporary street artists. Jade A. Waters' Ophelia the Second takes readers into the mind and heart of an infatuated understudy, while Starstruck by Lazuli Jones takes a similarly delightful journey into the mad-rushing thoughts of a fortysomething fan-girl at last meeting the object of her hottest teenaged fantasies--one hero, it turns out, who does not have feet--or anything else--of clay!" - Erotica for the Big Brain
"I think Rachel did a phenomenal job compiling together all of these stories. Each one is great as astand alone and yet, all of them work well in this book. The other great thingwith a book like this is that you can find a little of everything for everyone. From loving couples who enjoy trying to spice their relationship up with a"date" night, to a leadership building excursion that turns hot and kinky, you are bound to find at least one (though I assume it will be more) story to enjoy." - The Writer's Inkwell
"The stories themselves vary widely. Some are hard, fast, well-written sex from start to finish. Some are a slow dance, and the sex (or at least sexual activity) are almost a footnote in the closing paragraphs. Want sweet romance? It's in there. Hardcore sex? Sure. BDSM? Yep. Vanilla? You betcha. The characters themselves are no less diverse. Singles on a hot night out, couples adding spice, groups, mono couples, couples in open relationships, renegade artists, hipsters, escorts, office professionals, theatre actors, cis/hetero people, LGBT folks, doms and subs, childhood crushes come to life." - A Roll in the Hay
— Reviews