Outsmart Waste: The Modern Idea of Garbage and How to Think Our Way Out of It (Paperback)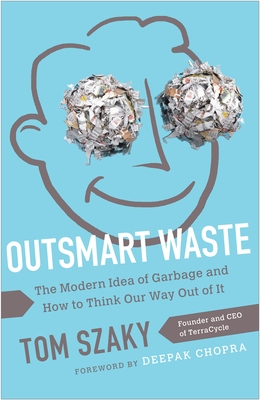 $15.95
NOT on our shelves now. Usually ships 1-10 business days from warehouse. ETA will be updated with email order confirmation.
Description
---
Ever-expanding landfills, ocean gyres filled with floating plastic mush, endangered wildlife. Our garbage has become a massive and exponentially growing problem in modern society. Eco-entrepreneur Tom Szaky explores why this crisis exists and explains how can we solve it by eliminating the very idea of garbage. To outsmart waste, he says, we first have to understand it, then change how we create it, and finally rethink what we do with it.

By mimicking nature and focusing on the value inherent in our by-products, we can transform the waste we can't avoid creating from useless trash to a useful resource. Szaky demonstrates that there is value in every kind of garbage, from used chewing gum to juice pouches to cigarette butts. After reading this mind-expanding book, you will never think about garbage the same way again.
About the Author
---
Tom Szaky is the founder and CEO of TerraCycle (www.terracycle.com), an innovative and award-winning global recycling company that makes typically nonrecyclable waste recyclable in over twenty-four countries around the world. Globally, over 60 million people participate in TerraCycle's programs.
Praise For…
---
"Tom illuminates pathways to finding 'gold in garbage heaps'… Thanks to this book, I can no longer acquire and discard unconsciously, and as I've long said, change begins with awareness."
—From the foreword by Deepak Chopra

"The waste industry is ripe for massive innovation and change. It takes creative minds and people with the courage to knock down doors and go around walls to be the spark. Tom is that."
—Ron Gonen, New York City Deputy Commissioner of Sanitation, Recycling, and Sustainability and cofounder and former CEO, RecycleBank

"Real change demands big, fearless ideas. In Outsmart Waste, Tom Szaky turns conventional thinking about trash on its head and lights the way for fundamental transformation of the waste system. Tom also illustrates how to turn seemingly impossible ideas into practical on the ground solutions - in record time. A must read for anyone who makes waste!"
—Geoff Rathbone, Vice President of Resource Recovery, Progressive Waste Solutions and former General Manager of Solid Waste Services for the City of Toronto