Choral Counting & Counting Collections: Transforming the PreK-5 Math Classroom (Paperback)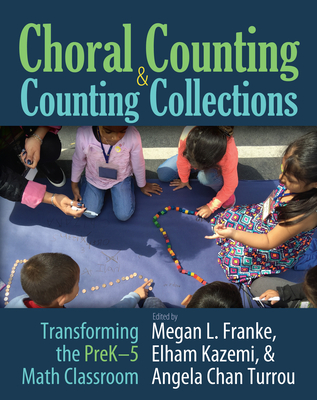 Not available to order
Stock uncertain--should fulfill within 10 days or so
Description
---
"This book is about the counting that you already do with your students and about counting in ways you have not yet imagined."                                                                         
—
from the Introduction
How to make counting
count
!
This influential book inspires preschool and elementary teachers to experience the joys and rewards of using two activities—Choral Counting and Counting Collections—regularly in their classrooms and in their partnerships with families. It paints a vision for how deeply and creatively children can engage with ideas of number and operations and mathematical sense-making through counting. 
Megan L. Franke, Elham Kazemi, and Angela Chan Turrou have collected the wisdom of mathematics teachers and researchers across the country who explore activities that are at once playful and intentional, simple and sophisticated. For teachers who want to jumpstart student participation and deepen mathematical understanding, this can be your go-to guide.
In six clear, engaging chapters, accompanied by an online Choral Counting tool, you will learn:
How to facilitate open-ended counting activities to deepen children's number sense
How counting activities can produce both social and academic benefits
How teachers can engage with families to build on students' mathematical thinking
How to facilitate collaborative activities with multiple entry points and multiple ways to be successful
Teachers will see that while the activities stay the same, the mathematics deepens over time and students' learning evolves. Let counting be a gateway into your students' mathematical insights. You might be surprised at what you learn!
About the Author
---
Elham Kazemi is a professor and associate dean of professional learning at the University of Washington Seattle, where her focus is elementary mathematics education and school-based professional development. In 2012, Elham was nominated for the university's faculty award for Distinguished Contribution to Lifelong Learning. She is a frequent presenter at national conferences.
Elham received her master's and doctorate degrees in educational psychology (mathematics education) from the University of California, Los Angeles. She earned a bachelor's degree in psychology, and her elementary teaching credentials, from Duke University.
"Children are brilliant," Elham says. "I love learning from children, and working with others who are fascinated by children's learning and development."
Her fascination with children's mathematical learning began during her graduate studies at UCLA, where her first research project involved observing twenty-four educators teach the same math lesson. "This experience was invaluable in helping me begin to think about what makes classroom learning environments productive," Elham says. "I also realized how important it is for teachers to have opportunities to learn from one another's practice."
As a result, Elham works side-by-side with teachers to build strong professional communities and "create thriving mathematical classrooms centered on children's thinking." She believes that strong university-school partnerships are instrumental in addressing social and academic inequities.
Intentional Talk: How to Structure and Lead Productive Mathematical Discussions, cowritten with Allison Hintz, guides teachers through the process of goal setting, planning for, and facilitating meaningful and dynamic mathematical discussions in their classrooms. The book focuses on teacher and student roles in two types of discussions: open strategy sharing and targeted sharing. Vignettes from primary and upper elementary classrooms, paired with author commentary, provide an in-depth exploration of five types of targeted sharing. Planning templates for each discussion type empower teachers to apply the discussion structure to their own mathematics classrooms.
Born in Tehran, Elham immigrated to England when she was eight years old and settled in the United States when she was eleven. Her twin daughters are the source of many adventures. Together they enjoy soccer, volleyball, and football. Elham loves to knit, hike, and experiment with new foods.