A Traveller's History of Ireland (Interlink Traveller's Histories) (Paperback)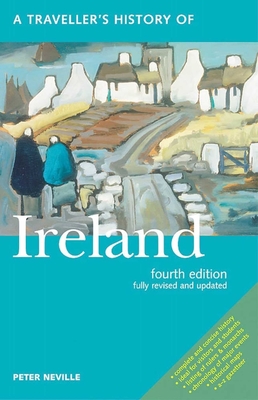 Description
---
A Traveller's History of Ireland gives a full and accurate portrait of Ireland from its prehistory right up to the present. The story opens with mysterious, early Celtic Ireland where no Roman stood, through Saint Patrick's mission to Ireland which began the process of making it "an island of saints," to the legendary high King Brian Boru and his struggle with Viking and Irish enemies alike. It moves on through the arrival of the Norman "Strongbow" in the twelfth century, and the beginnings of the difficult and tragic Anglo-Irish relationship. Great historical figures like Hugh O'Neill, Oliver Cromwell, and Jonathan Swift figure, as well as ordinary people like the Londonderry "apprentice boys" who helped change the course of Irish history. The book then moves into modern times with the great revolts of 1798, the horrors of the potato famine, and the careers of the leading constitutional nationalists, Daniel O'Connell and Charles Parnell. The book ends with a description of modern Ireland, and of its two separate Catholic Nationalist and Protestant Unionist traditions.
About the Author
---
Peter Neville is Senior Lecturer in Contemporary and Modern History at the University of Luton. He is also the author of several books on aspects of British, European, and world history, and the author of A Traveller's History of Russia in this series.
Praise For…
---
"This book will be appreciated by visitors who want more historical background than ordinary series guidebooks supply... Highly recommended"

"For independent, inquisitive travelers traversing the green roads of Ireland, there is no better guide than A Traveller's History of Ireland"