Veganistan: A Vegan Tour of the Middle East & Beyond (Hardcover)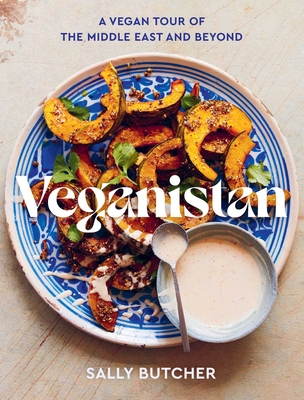 Description
---
The newest release from prolific food writer Sally Butcher, Veganistan is full of healthy, accessible, and delicious vegan recipes for everyone, inspired by a Middle Eastern kitchen.

The Middle East is a region lush in its vegetation, a gift to the non-meat-eater. Much of the cuisine is naturally plant-based, with a lot of the flavor of recipes coming from the herbs, spices, cooking methods, and sheer joie de cuisine traditional to Middle Eastern dining.

Vegan diets can often be dismissed as lacking in certain nutrients, but there is no doubt that one thing a Middle Eastern kitchen teaches us is balance: every dish from a traditional kitchen is carefully crafted to offer a balance of "hot" and "cold" elements to satiate the four humors of medieval yore with legumes, grains, nuts, and vegetables galore.

The original mission of The New Middle Eastern Vegetarian was to celebrate vegetables in all their glory, rather than recreating meat dishes, and in Veganistan Sally Butcher starts to play more with seitan, tofu, and tempeh using them as vehicles to showcase the wonderful range of flavor this cuisine offers.

This is not a book written from a moral point of view, but primarily from a food angle, a way of bigging up and celebrating the wonders of Central Asian, Iranian, Turkish, Arab, and East African vegetable cooking and creating a volume of accessible dishes.
About the Author
---
Sally Butcher is a London-based food writer and cookbook author. She runs Persepolis, the acclaimed Persian food store in London. Her most recent book The New Middle Eastern Vegetarian (also published by Interlink) has been a hugely successful and was shortlisted for the Guild of Food Writers' Cookery Book of the Year Award. Her first book, Persia in Peckham, was also published to critical acclaim and short-listed for the 2008 Andre Simon Award. It was also selected by the Sunday Times as their cookbook of the year. When Sally is not running her store, she blogs and tweets prolifically and has amassed a devoted online following.
Praise For…
---
"Sally Butcher's Persepolis: Vegetarian Recipes From Persia and Beyond (Interlink, $35) is written in the engaging voice of a knowledgeable enthusiast who feels free to play with her food. She offers traditional techniques and flavors where she believes they'll do the most good — sour orange in a bulgur pilaf, saffron and kefir in an Azerbaijani soup — but she's also willing to put Marmite in the hummus and sweet potatoes in the falafel. Her recipe for moutabal — "baba ghanoush's first cousin"— outshines by a mile the more familiar eggplant dip, thanks to mint, walnuts, and pomegranate molasses."

"In the book's introduction, Butcher (New Middle Eastern Street Food) immerses readers in the history and language of salads. After explaining terms, such as salleting (to make salads) and salmagundi (a 17th-century English salad), the author shares international recipes for salads that can be served traditionally, as finger food, or in creative vessels (e.g. hollowed-out fruits and vegetables, scallop shells). For Butcher, few ingredients are off limits; she crafts salads from familiar lettuces, vegetables, legumes, grains, and meats but also uses edible flowers, foraged plants, and sophisticated dressings (e.g. pesto made from 'pert baby nettles,' tarragon-infused vinegar). VERDICT Whether you're looking for a quick snack, a winning appetizer, a super healthy meal, or a refreshing fruit dessert, Butcher's latest will have you covered… a great gift for salad lovers"

"Focusing mainly on Middle Eastern snacks and street food, Butcher's book features some 100 easy recipes that appeal to all ages, appetites and adventure levels… As both a seasoned author and owner of celebrated Persian grocer Persepolis in London, Butcher clearly knows her way around kebabs and mezzes."

"Butcher's boundless enthusiasm is contagious and beautifully displayed in her new collection of over 100 dishes, all clearly explained and vividly photographed. Her signature wit and humor make this book fun, and is sure to motivate home cooks to get into the kitchen to whip up exotic Middle Eastern fare from all over the globe."

"Butcher successfully blends the flavors of the Middle East and churns them into craveable concoctions that will have cooks of all stripes turning pages."
— Booklist

"[A] fun and enticing volume … Throughout, Butcher complements the recipes with bits of lore and culinary culture … An expert guide to grilling vegetables and unique beverage concoctions including a sage cocktail and spiced brandy cream round things out. The result is a vegan cookbook with real universal appeal."
— Publishers Weekly, Starred Review

"Focused on Central Asian, Iranian, Turkish, Arabic, and East African cooking, Butcher gathers the flavors of these areas into a vegan ode to their cuisines … the book is full of stunners by photographer Sugiura … Readers will delight in this work, with its wide range of offerings, eclectic text, and personable tone."
— Library Journal

"In Veganistan, Sally Butcher spotlights Middle Eastern and Mediterranean flavors through spice-rich, plant-based meals... Veganistan's globe-trotting, plant-based recipes zing."
— Foreword