The Gardener of Alcatraz: A True Story (Hardcover)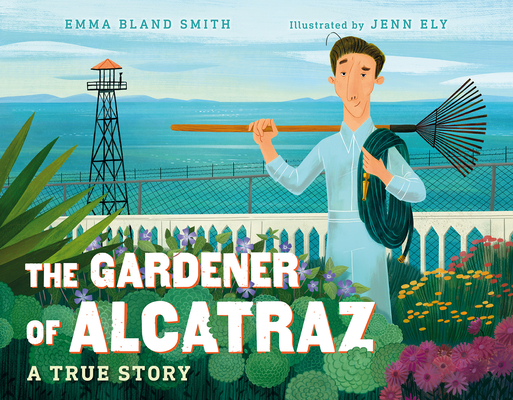 List Price: $17.99
Our Price: $16.99
(Save: $1.00 6%)
Description
---
A prisoner gardens his way to freedom in this inspiring picture-book biography.

When Elliott Michener was locked away in Alcatraz for counterfeiting, he was determined to defy the odds and bust out. But when he got a job tending the prison garden, a funny thing happened. He found new interests and skills--and a sense of dignity and fulfillment. Elliott transformed Alcatraz Island, and the island transformed him.

Told with empathy and a storyteller's flair, Elliott's story is funny, touching, and unexpectedly relevant. Back matter about the history of Alcatraz and the US prison system today invites meaningful discussion.
About the Author
---
Emma Bland Smith thinks the best thing about writing books is getting to visit lots of cool places for research--like Alcatraz. She is a public librarian, a book blogger, and the author of many children's books, including Journey: Based on the True Story of OR7, the Most Famous Wolf in the West.

Jenn Ely loves a well-told story. She works on animated projects for film and television and illustrates books, such as If You Were a Kid Building a Pyramid. Jenn believes in trying things that might not work because that's what makes you grow. www.jennely.com @elyjenna
Praise For…
---
♦     Here's the thing, see: with The Gardener of Alcatraz: A True Story, Emma Bland Smith and Jenn Ely have created this really terrific picture book biography of a crook who turned his life around. And get this: the narrator sounds like an old-movie tough guy right outta the story's setting! As the narrator puts it after the crook goes straight, "Swell!"
      What happens is, after this guy Elliott Michener gets busted for counterfeiting, he's sent to Alcatraz, the roughest, toughest prison there is. At first Michener isn't sold on rehabilitation--he figures he'll break out and maybe take up counterfeiting again, or else knock off a bank. But when he finds a key in the prison yard, does he try it in every gate at the joint? Naw--he turns in the key! So the guards let Michener help with the gardening. And holy smokes, the jailbird likes the job! Sure, maybe not for the right reason at first....
      With The Gardener of Alcatraz, Smith (The Pig War) has produced a humane and moving story, and Ely (If You Were a Kid Building a Pyramid) captures the emotional nub of every scene, using a gloomier palette to reflect Michener's darker days and a brighter one to reflect his expanding horizons. Back matter offers historical context (the year that Michener landed at Alcatraz--1941--is curiously missing from the main text) and discusses changing attitudes toward rehabilitation: "Today experts know that giving incarcerated people meaningful work is important and worthwhile." Swell!
—Shelf Awareness Reader, starred review

Prisoners sent to the forbidding island prison Alcatraz had few opportunities for meaningful work, which makes the story of Elliot Michener quite remarkable. Michener, convicted counterfeiter, spent much of his early time there devising ways to escape. The opportunity to become a prison gardener, however, gave his life new meaning. Not only did he transform the drab land surrounding the prison into a landscape bursting with color, but Michener was invited to help out at the warden's house. Michener was eventually released from prison, after which he went to work on a farm in Wisconsin. Though this is the story of one man at one notorious prison, the author subtly conveys the need for more humane treatment of all prisoners given the possibility of better outcomes for their lives post-incarceration. The small amount of text on each page and the appealing artwork make this an engaging read. Michener and the other main characters are all white, while other prisoners are a variety of ethnicities, a fact not lost on the author, as she explains in a note. Pair this with Jennifer Choldenko's Al Capone Does My Shirts, also set on Alcatraz. Extensive back matter includes a time line, historical photographs, further information about Michener and Alcatraz, and a selected bibliography. VERDICT A fascinating look at a minor historical figure, sure to inspire discussion. —School Library Journal

Superb storytelling elevates a solid story line into something more. That alchemy occurs in this lively biography of an unlikely subject. Through the '40s, a convicted counterfeiter at the toughest prison in the country goes from figuring out how to escape to figuring out how to plant "every square inch of the island." But first, hoping to "bust out," Elliott Michener cons the big bosses into trusting him with a gardening project, and, over the years, he grows trustworthy. Trying to overcome tedium, Michener transforms the island from gray to green. In so doing, he grows productive — a dedicated gardener with "passion, pride, and solid skills." Beyond offering a well-paced tale, the omniscient narrator regularly checks in with chatty interjections: "Let me tell you." "Make no mistake." "And our story takes a turn." Meanwhile, flat paintings set the scenes, accommodating both the grimness of prison life and the bounty of flowers. Michener's capacity to change is impressive and inspiring. San Francisco author Emma Bland Smith gracefully plumbs deeper themes about the dignity of work and the meaning of freedom in this beautifully rendered feel-good book.
—The San Francisco Chronicle