Renal Diet Cookbook: The Low Sodium, Low Potassium, Healthy Kidney Cookbook (Paperback)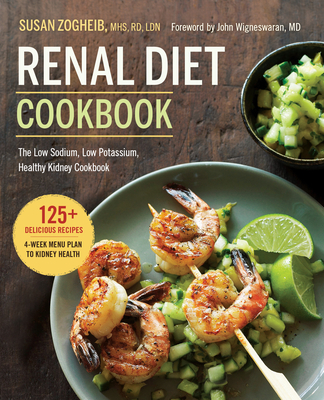 $16.99

NOT on our shelves now. Usually ships from warehouse in several days.
Description
---
Better eating for healthier kidneys — the renal diet cookbook and meal plan.
While a kidney disease diagnosis can be overwhelming, you're not alone. Nearly 26 million adults are affected by chronic kidney disease, but there is hope: your diet. In the
Renal Diet Cookbook
, renal dietician Susan Zogheib, MHS, RD, LDN provides a 28-day plan to establish long-term dietary changes to slow the progression of kidney disease. She knows it can be confusing to figure out which foods to eat and which to avoid. In her comprehensive renal diet cookbook, she details weekly meal plans featuring recipes that keep your potassium, sodium, and phosphorous levels in check.
The Renal Diet Cookbook
removes the mystery and stress of figuring out what foods to eat, with:
Targeted weekly meal plans to preserve your kidney health
Recipe modifications for dialysis patients
Helpful FAQs about managing chronic kidney disease
Recipes in the
Renal Diet Cookbook
include: Strawberry Cream Cheese Stuffed French Toast, Baba Ganoush, Roasted Beef Stew, Baked Mac and Cheese, Herb Pesto Tuna, Persian Chicken, Honey Bread Pudding, and much more!
More than a recipe book,
The Renal Diet Cookbook
is your 28-day action plan to kick-start a kidney-healthy diet.
About the Author
---
SUSAN ZOGHEIB is a registered dietitian (RD) with a master's degree in Health Science from Ryerson University in Toronto, Ontario. Susan is a leader in the field of renal nutrition with over 10 years of experience working as a clinical dietitian. Her previous books on the subject include the bestselling Renal Diet Cookbook, the Renal Diet Plan & Cookbook, and The Optimal Nutrition Guide to Manage Kidney Disease. Susan lives in Pittsburgh, Pennsylvania.
Praise For…
---
My patients need information, education, meal plans, ample options, simple recipes, flavor, fun, and the reassurance that what they eat is good for them. This book addresses these needs in a way that provides hope, wellness, and accessibility. It is hard to balance this and still create a book that is not intimidating and appealing to the taste buds. I was excited to see the meal plan option and also the chapter on vegetarian options. I also was delighted by the chapter on desserts. Now when my patients ask me for ideas and start to look at food like medicine I can just give them this reference and off they go! No more handouts. No more missing delights like desserts. No more dead ends for vegetarians. It's all there in wonderful, colorful pictures. I'm excited this book exists.?Dr. Jean Robey, Nephrologist, Arizona Kidney Disease & Hypertension Centers

I often get asked by kidney patients if there is a renal cookbook I can recommend to them. I am very pleased to now have this one available. It's not just a book of recipes; it starts with solid, easy-to-understand information about aspects of the renal diet and why they are important. In order to make a change, we all need to understand the reason for it. The recipes are not complicated and are explained simply so that even a novice in the kitchen can follow them. This is a very well thought-out book by an expert in the field of renal nutrition. I have already recommended this book and will continue to. With 26 million Americans diagnosed with kidney disease, a book like this was much needed.—Paul Garney, MS RD LD CHC, Vice President of Compliance for DIALYSPA

There was a need for an attractive book which is easy to understand and which presented the materials in a manner that encouraged success and kept the reader motivated. The Renal Diet Cookbook supplies a great deal of valuable information and motivation, including excellent advice on getting started in a way that will ease you into the plan. My wife and I enjoyed the variety of recipes that were uniformly easy to prepare and delicious. This book was much more user friendly than several others I have read.?Dr. John Sarbacker, retired Dermatologist and CDK4 patient