The Mirror of Magic: A History of Magic in the Western World (Hardcover)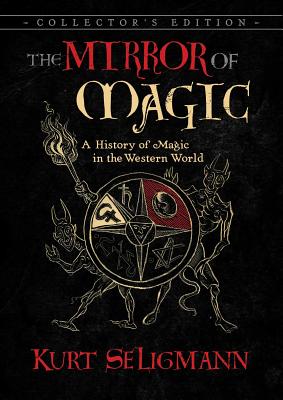 Description
---
A collector's edition of the classic, illustrated, and comprehensive history of magic and the occult

• Written by renowned Surrealist and magic scholar Kurt Seligmann (1900-1962)

• Includes all 250 illustrations from the original 1948 edition

• Explores magical practices and beliefs from their origins in the ancient world through the heyday of secret societies in the 18th century

In the occult classic The Mirror of Magic, renowned Surrealist Kurt Seligmann (1900-1962) draws from his encyclopedic practitioner's knowledge and extensive antiquarian collection to offer a comprehensive, illustrated history of magic and the occult from Mesopotamia and ancient Egypt through the 18th century. He explores the gods and divinatory arts of the legendary Sumerians and the star-wise Babylonians, including the birth of astrology. He examines the afterlife beliefs of the ancient Egyptians and the dream interpretation practices and oracles of ancient Greece, including the mysteries of Eleusis and the magical philosophy of Plato, Socrates, and other Greeks. He uncovers the origins of Gnosticism and the suppression and banishment of magic by the post-pagan, Christian emperors of Rome.

Seligmann reviews the principles of alchemy, sharing famous transmutations and allegorical illustrations of the alchemical process and explores the Hermetica and its remarkable adepts. Investigating the Middle Ages, the author discusses the work of European magicians of the time, including Albertus Magnus, Roger Bacon, Agrippa, Nostradamus, and Pico Della Mirandola. He studies the medieval practices of devil worship, witchcraft, and black magic, as well as the "Cabala" in both its Hebrew and Christian forms. He also examines the art of the Tarot and many lesser known divination techniques. He explores the development of secret societies, including Freemasonry and Rosicrucianism, in the 17th century and the increase in occult publications and magical science in the 18th century.

First published in 1948, this history of magic and the occult seeks to "mirror" the magical worldview throughout the ages. Beautifully illustrated with images from the author's rare library, this collector's edition features all of the artwork--more than 250 images--from the original 1948 edition.
About the Author
---
Kurt Seligmann (1900-1962) was a Swiss-American Surrealist painter and expert on magic, known for his extensive collection of rare books and his monumental role in the popularization of Surrealism in the United States. After the outbreak of World War II in 1939, he was the first European Surrealist to arrive in New York. After the war his work was exhibited widely and acquired by museums throughout the United States and Europe. He taught for many years at various colleges in New York City.
Praise For…
---
"The Mirror of Magic is an exceptionally important work. Its influence on art cannot be underestimated, from surrealism moving forward. Capturing the visuality of the traditions as well as underlining their continuing relevance, this book belongs in every library of art. Seeing it back in print is hopefully a harbinger of things to come."
— Jesse Bransford, associate professor of art at NYU Steinhardt

"Kurt Seligmann's The Mirror of Magic is a wide-ranging and accomplished survey of significant magical beliefs and practitioners in both East and West, spanning from antiquity to the dawn of our modern, scientific era in the eighteenth century. At last restored to the sumptuous visual glory of its original edition, The Mirror of Magic wondrously reflects the myriad ways, seen and unseen, by which man seeks to engage and even control elements of the surrounding universe."
— Michael Moynihan, coauthor of Lords of Chaos

"As well as being a feast for the eyes, the book is a delight to read."
— Arts and Antiques 2019

"Beautifully illustrated with images from the author's rare library, this collector's edition features all of the artwork--more than 250 images--from the original 1948 edition."
— Clinton Chronicle, Inc. 2018

"The Mirror of Magic is the book our scholar-practitioners of magic need to read. It's like "The Encyclopedia of the Roots of Practically Everything," preceded in this collector's edition by a note from the publisher that Inner Traditions decided to preserve the book's layout, typography "and most important, all 250 of Seligman's illustrations from his rare and private collection" (p. iv). Read this marvelous book for yourself. Learn about historical magic and magicians. Study, for example, the forty-two illustrations in the section on alchemy and you'll learn to recognize all the common alchemical symbols. And there's a tiny bonus, too--the book comes with a red ribbon bookmark."
— Barbara Ardinger, Ph.D., freelance editor and author of Pagan Every Day

"There's so much more exciting stuff in this book that I couldn't possibly cover it all in this review. The Mirror of Magic is a book that I will go back and reread. It is also a book that has led me to research more of the history of magic, paganism, witchcraft, and even Judeo Christian beliefs."
— Dawn Borries, PaganPages.org

"This 1948 classic is a glorious synopsis of Western occult history, prepared by one the most well-known Swiss Surrealist painters of his time. The sheer number of classic illustrations and engravings is nearly worth the cover price alone, and Seligman does not merely show without telling. His descriptions and analyses of alchemical symbolism and mystical art trends are both insightful and clever. Seligman's book on a whole is a gem of historical magic, as beguiling now as it must have been when it was released 70 years ago."
— The Witches' Almanac

"At fifty American dollars, this edition of The Mirror of Magic will not be a cheap addition to anyone's bookcase; but at over five hundred pages, neither is it a small one. Also, brimming Folklore, 2019 with the captivating images of Seligmann's personal collection, this feels part book, part art gallery. An aesthetic as well as scholarly achievement, not to mention a significant stepping stone in the development of magic scholarship, this is a piece of history in itself."
— Ceri Houlbrook, University of Hertfordshire, UK, The Folklore Society Reviews