Cool Gray City of Love: 49 Views of San Francisco (Paperback)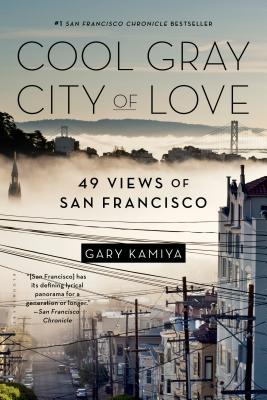 $18.00
On Our Shelves Now. Call store for up-to-the-minute availability.
Staff Reviews
---
"There have been many histories written about the transformation of San Francisco from a muddy hamlet of 800 people in 1848 into one of the world's great metropolises. What makes this one special is Kamiya's synthesizing of the personal memoir with a walking tour of the historic, the geographic and the geologic, all rolled together in a witty and accessible style. Kamiya not only obviously spent countless hours deep in the library stacks doing diligent research, but he must also have worn out several pairs of shoes walking the far-flung corners, alleys, dirt paths and hills of San Francisco. Along the way he points out the little remnants of the past--buried stream beds and old trails that became our modern roads; local characters past and present; spots where the old has been replaced by the new without being completely erased. Even if you think you know all you need to about this cool gray city of love, Gary Kamiya will surprise you with his passionate mash note to San Francisco." - KPR
— From
KPR's Staff Picks
Description
---
A runaway San Francisco Chronicle bestseller, Cool Gray City of Love is a one-of-a-kind book for a one-of-a-kind city. It's a love song in 49 chapters to an extraordinary place, taking 49 different sites around the city as points of entry and inspiration-from a seedy intersection in the Tenderloin to the soaring sea cliffs at Lands End. Encompassing the city's Spanish missionary past, a gold rush, a couple of earthquakes, the Beats, the hippies, and the dot-com boom, this book is at once a rambling walking tour, a natural and human history, and a celebration of place itself-a guide to loving any place more faithfully and fully.
About the Author
---
Gary Kamiya was born in Oakland in 1953, grew up in Berkeley, and has lived in San Francisco since 1971. He cofounded Salon.com, where he was executive editor for twelve years and then a columnist. His first book, Shadow Knights: The Secret War Against Hitler, was a critically-acclaimed history of Britain's top secret Special Operations Executive. Kamiya is currently executive editor of San Francisco Magazine.
Praise For…
---
"How do I love thee? In Cool Gray City of Love Gary Kamiya crushes on San Francisco in 49 different ways--from its landscapes and architecture to a fabled past encompassing the Gold Rush, Beats and hippies, the AIDS crisis, and dot.com mania. Now that's love and devotion." —Vanity Fair
"Written in a confessional first-person tone that invokes a conversation between two old friends: Kamiya and the city he has called home for over 40 years . . . impressive is the author's uncanny grasp of the bay's natural history and the way that the landscape continues to shape the lives of current San Franciscans . . . Kamiya has written a fitting ode to an exceptional city." —Publishers Weekly
"Kamiya's relish is contagious . . . [San Francisco] has its defining lyrical panorama for a generation or longer." —San Francisco Chronicle
"Newcomers to San Francisco fall in love with the city every day, but no one can appreciate it quite like a longtime resident. Kamiya proves an ardent, expert guide to his hometown's history, neighborhoods and landmarks . . . Cool Gray City of Love will open your eyes anew." —San Jose Mercury News
"I can't imagine there's anyone who knows San Francisco better than Gary Kamiya." —Dave Eggers