Motherland: A Novel (Paperback)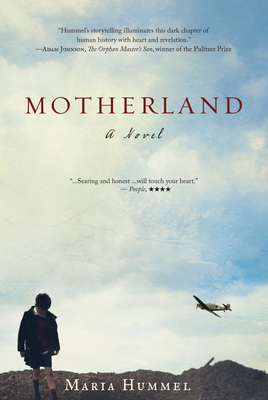 $15.95
Temporarily Unavailable
Description
---
This "haunting" family saga set in WWII Germany "illuminates the reality of war away from the frontlines . . . with a compassion and depth of understanding that will touch your heart" (People).

Inspired by the author's extended family and their status as Mitläufer—Germans who 'went along' with Nazism, reaping its benefits and later paying the consequences

Inspired by the stories told by her father about his German childhood and letters between her grandparents that were hidden in an attic wall for fifty years, Motherland is a novel that attempts to reckon with the paradox of the author's father—a product of her grandparents' fiercely protective love—and their status as passive Nazi–sympathizers known as Mitläufer.

At the center of Motherland lies the Kappus family: Frank is a reconstructive surgeon who lost his beloved wife in childbirth. Two months later, just before being drafted into medical military service, Frank marries a young woman charged with looking after the surviving baby and his two grieving sons. Alone in the house, Liesl attempts to keep the children fed with dwindling food supplies, safe from the constant Allied air attacks and the tides of desperate refugees flooding their town. When one child begins to mentally unravel, Liesl must discover the source of the boy's infirmity or lose him forever to Hadamar, the infamous hospital for "unfit" children.

Bearing witness to the shame and courage of Third Reich families during the devastating final days of the war, each family member's fateful choice leads the reader deeper into questions of complicity and innocence, and to the novel's heartbreaking and unforgettable conclusion.
About the Author
---
Maria Hummel is a novelist and poet. Her most recent novel, Still Lives, was a Reese Witherspoon x Hello Sunshine Book Club pick, Book of the Month Club pick, and BBC Culture Best Book of 2018, and has been optioned for television and translated into multiple languages. She is also the author of Motherland, a San Francisco Chronicle Book of the Year; and House and Fire, winner of the APR/Honickman Poetry Prize. She has worked and taught at The Museum of Contemporary Art, Los Angeles; Stanford University; and the University of Vermont. She lives in Vermont with her husband and sons.
Praise For…
---
"Haunting novel . . . Searing and honest, her book illuminates the reality of war away from the front lines—betrayal and compromise, neighbor turning on neighbor, the unexpected heroism of ordinary people—with a compassion and depth of understanding that will touch your heart."—People

"This quiet novel relies on the profound interiority of its characters. At its heart is what is repressed on both an individual and collective scale . . . What we know now is never quite the same as what we knew then, and Motherland presents an astute acknowledgment of both—not by way of excuse nor explanation but simply exploration. It presents history as created by the people who push events into being and those who respond . . . Hummel's focus on the concrete, physical experiences of one family is a fine, brave antidote to abstraction, and does what good historical fiction does best: explores what has passed in those undocumented rests between the things we know to be true." —The San Francisco Chronicle

"A moving story of love and privation, sacrifice and survival . . . Hummel, a Jones Lecturer at Stanford University, delivers an intimate portrait of family life during wartime." —San Jose Mercury News

"Like Sebastian Faulk's Birdsong, Motherland is more than a story of separated lovers—it charts, with great poise and more than a little poetry, the challenges of a time when allegiances, to one side or the other, were both necessary and potentially disastrous." —Bustle  

"Hummel somehow manages, without sensationalism, to drive home the humanity and suffering of the people who are frequently considered only as the enemy . . . [A] humane and compelling story." —BookPage
 
"However, these all-too-human failings are so honestly rendered that a stark question emerges: Who among us, faced with similar circumstances, would have acted differently? Heart-rending and chilling." —Kirkus Reviews (starred)

"Fear, grief, and the will to survive fuse in this beautiful novel about the inner life of a German family in the final months of World War II . . . Motherland occupies a relatively unexplored space in World War II literature . . . The humiliations and guilt that each family member endures for the others are described with grace and humanity in this absorbing story. While stunningly intimate, Motherland is expansive in feeling and scope. Extending beyond a simple historical drama, this book is a reminder of the reach of love, how it can blind, and how it can heal." —Publishers Weekly (starred)

"In prose that is both spare and heavily laden with the exhausted emotion of hard living, Hummel maintains a claustrophobic undercurrent of fear even when describing mundane daily tasks. Dark and uncompromising, Motherland illuminates a little-examined aspect of the war." —Booklist 

"In stunning, pitch-perfect prose, Maria Hummel gives us a deeply moving portrait of lives on the wrong side of history. This isn't just another World War II novel; it's a spectacular story about what it means to love and hope in the most difficult times." —Jesmyn Ward, Salvage the Bones, Winner of the National Book Award   

"This is a tender, profound novel of a young woman who steps into a shattered German family and makes it her own. The radiance of her sacrifice, and of Hummel's storytelling, illuminates this dark chapter of human history with heart and revelation." —Adam Johnson, The Orphan Master's Son, winner of the Pulitzer Prize

"Through the intimate story of one German family at the end of the Second World War, Motherland weaves a universal tale of moral obligation, wartime complicity, and the lengths we will go to protect those we love. From the bare bones of her own family's history, Maria Hummel has built a visceral, magnificent creature." —Anthony Marra,A Constellation of Vital Phenomena, 2013 NBCC long list nominee

"Maria Hummel draws upon her family history to create a spellbinding novel that examines the many facets of motherhood, during a time of war and beyond.  Motherland is a vivid, heart-stopping depiction of a German family's struggle to stay together during the devastating Allied bombing of their small town. You won't soon forget these characters or the stories they have to tell." —Susan Sherman, The Little Russian

"A courageous and unsettling novel arising from the questions that Maria Hummel had about her grandparents' lives during the Third Reich. How much did they know? How did they survive?" —Ursula Hegi, Stones from the River