Still Lives: A Novel (Hardcover)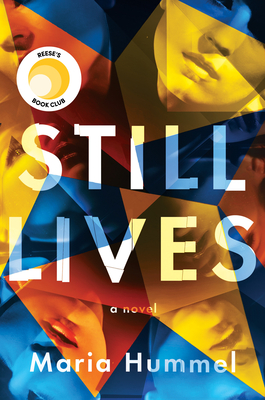 $26.00
Temporarily Unavailable
Other Books in Series
This is book number 1 in the Still Lives series.
Description
---
Twelve shocking paintings. Eleven famous murders. One missing artist . . . and one woman driven to find her—this Reese's Book Club x Hello Sunshine Selection is a "stunning achievement" (Los Angeles Times).

Kim Lord is an avant–garde figure, feminist icon, and agent provocateur in the L.A. art scene. Her groundbreaking new exhibition Still Lives is comprised of self–portraits depicting herself as famous, murdered women―the Black Dahlia, Chandra Levy, Nicole Brown Simpson, among many others―and the works are as compelling as they are disturbing, implicating a culture that is too accustomed to violence against women.

As the city's richest art patrons pour into the Rocque Museum's opening night, all the staff, including editor Maggie Richter, hope the event will be enough to save the historic institution's flailing finances.

Except Kim Lord never shows up to her own gala.

Fear mounts as the hours and days drag on and Lord remains missing. Suspicion falls on the up–and–coming gallerist Greg Shaw Ferguson, who happens to be Maggie's ex. A rogue's gallery of eccentric art world figures could also have motive for the act, and as Maggie gets drawn into her own investigation of Lord's disappearance, she'll come to suspect all of those closest to her.

Set against a culture that often fetishizes violence, Still Lives is a page–turning exodus into the art world's hall of mirrors, and one woman's journey into the belly of an industry flooded with money and secrets.

"It's a thrilling mystery that will leave you wondering which characters you can and can't trust . . . There's a twist at the end that still keeps us up at night, it's THAT good." —Reese Witherspoon (A Reese's Book Club x Hello Sunshine Selection)
About the Author
---
MARIA HUMMEL is a novelist and poet. Her novel, Still Lives, was a Reese Witherspoon x Hello Sunshine Book Club pick, Book of the Month Club pick, and BBC Culture Best Book of 2018, and has been optioned for television and translated into multiple languages. She is also the author of, most recently, Lesson in Red; as well as Motherland, a novel, a San Francisco Chronicle Book of the Year; and House and Fire, winner of the APR/Honickman Poetry Prize. She has worked and taught at The Museum of Contemporary Art, Los Angeles; Stanford University; and the University of Vermont. She lives in Vermont with her husband and sons.
Praise For…
---
A REESE'S BOOK CLUB x HELLO SUNSHINE Selection
An Amazon Best Mystery/Thriller of the Year
Named a Best Book to Read by Time, Entertainment Weekly, Bustle, Buzzfeed, The Daily Beast, The Guardian, Refinery29, and more.

"It's a thrilling mystery that will leave you wondering which characters you can and can't trust . . . There's a twist at the end that still keeps us up at night, it's THAT good." —Reese Witherspoon (A Reese's Book Club x Hello Sunshine Selection)

"[A] splendid art–world thriller . . . Ms. Hummel captures characters in a single stroke . . . Having herself worked in a museum, she speaks with authority of that sealed world . . . Still Lives is both savvy and lyrical—the perfect beach read for either coast." —The Wall Street Journal

"While Still Lives is a deeply affecting examination of how our culture fetishizes female victims of crime—be it in art, news, or publishing—it will also have readers feverishly turning pages to discover the fate of engaging characters who are more than symbols of what's wrong or right about Los Angeles. It's a stunning achievement for a writer who perfectly captures an outsider's ambivalence about the city's pluses and minuses, and most notably its sensational crimes and the dark angels we make of its victims." —Los Angeles Times

"This is not only a satisfying mystery, but also an ambitious, intelligent and often uncomfortable study of gender, violence and art." —The Guardian

"[A] mysterious page turner." —TIME

"Mystery and murder cloud this feminist story set in the heart of Los Angeles' art scene. When an avant–garde artist goes missing on the day her groundbreaking exhibition opens, the story spins out in many provocative directions." —Entertainment Weekly

"A delicious Los Angeles noir that combines the glitz and glamor of fine art with the grit and grime of crime and sexual objectification, Still Lives is a thought–provoking novel packaged in one hell of a mystery." —The Daily Beast

"[A] suspenseful and profound novel . . . This suspenseful crime novel has echoes of far more profound questions than 'who done it?' though: What is the role of women in the art world? Objects? Artists? How do we view women in our society at large? What is truly dangerous? SoCal readers will appreciate Hummel's insider view of L.A., too. Not just her portrayal of the sparkling L.A. art scene, informed by her days working at MOCA, but a deep understanding of the 'real' city: sun–bleached, peeling reality. " —Whittier Daily News

"Reese Witherspoon's new book club pick is a dark, feminist thriller, and you're not going to want to miss it." —Bustle

"Maria Hummel's Still Lives is moody and restless, propelled by a gradually intensifying sense of unease. Hummel envelops the reader in the LA art scene . . . [H]er journey illuminates the misogyny which allows a culture to turn murdered women into objects for consumption." —Buzzfeed

"Maria Hummel's novel is classic noir made modern." —Refinery29

"Within Still Lives, the new novel by Maria Hummel (Motherland, Wilderness Run), is a taut thriller with enough compelling elements for a propulsive book . . . Still Lives is an effective thriller with a delectable final 100 pages. It reaches an addictive pitch that all books of this ilk aspire to. The more Hummel settles into the plot machinations the better the novel gets, as the hazy ideological questions and confusing passages fall away . . . Hummel engages with complicated and challenging questions about the meaning and impact of art that depicts violence, and she writes a hell of an ending." —Los Angeles Review of Books

"The careful characterizations of the players . . . mean that, as the mystery unfolds to reveal them as suspects or victims, the reader feels deep empathy that comes from perceiving them as real people, not plot devices. Hummel builds visceral intimacy around 'women's oppressive anxiety about [their] ultimate vulnerability' in this often uncomfortable tale about the media's fetishistic fascination with the violent murders of beautiful women." —Publishers Weekly (starred review)

"[A] spellbinding new novel . . . No doubt comparisons to Raymond Chandler's best work will rain down upon Still Lives, dotted as it is with trenchant observations of LA and the human condition. Like Chandler, Hummel is capable of limning out a ripping yarn replete with high fashion, high finance and high society . . . And not unlike another master of the mystery, Erle Stanley Gardner, Hummel includes an intellectually satisfying Perry Mason moment that also provides an interesting twist. It would be damning with faint praise to call Still Lives a contender for best beach read of the year—like calling Pablo Picasso a really good painter—but Still Lives is both that and so much more." —BookPage

"In this taut take on noir, misogyny, and the art of responsible storytelling, Hummel (Motherland, 2014, etc.) balances the glitz and glam of the Los Angeles art world with the town tourists don't often see, from peeling, postwar bungalows to skid row tent cities and suffering junkies . . . This is a whip–smart mystery and a moving meditation on the consumption of female bodies all rolled into one." —Kirkus Reviews

"Hummel's novel ultimately offers an intriguing insider's view into a high–stakes, turbulent industry, from peculiar artists to fabulous exhibitions. With deliberate pacing increasing the tension, the story line revolving around the public's fascination with graphic crimes against women serves as a chilling reminder that such violence continues to occur in many forms." —Library Journal

"Hummel . . . presents a polished, droll, and provocative art–world thriller . . . With a cast of strong and complicated female characters, headed by a determined, reckless, funny, and imperiled amateur sleuth, Hummel crafts a shrewd and suspenseful inquiry into womanhood and the dark side of the art market, punctuated by striking variations on identity, portraiture, and 'still lives.'" —Booklist

"Still Lives offers its readers that delicious combination of entertainment and brilliance. It's at once profound and suspenseful, and while the plot kept me up nights (the ending had me gasping in surprise!), the book as a whole asks important questions about art and representation and how we, as a culture, objectify and endanger and victimize women. Maria Hummel has written a remarkable, relevant, and necessary novel." —Edan Lepucki, author of Woman No. 17 and the New York Times bestselling California

"There's nothing I like better than a well–written page–turner about the art world, and Maria Hummel has delivered this and more with her new literary thriller, Still Lives. Flawed characters abound as do clever plots and subplots along with irresistible peeks into hidden chambers of the L.A. art scene. Riveting." —B.A. Shapiro, New York Times bestselling author of The Art Forger and The Muralist

"A gripping mystery set inside the world of contemporary art, Still Lives is the kind of book we all hope to stumble upon: the perfect combination of terrific prose and compelling storytelling. Maria Hummel has delivered the smartest, most original page–turner I've read in a long time." —Maggie Shipstead, author of Astonish Me and the New York Times bestselling Seating Arrangements