The Year of Needy Girls (Paperback)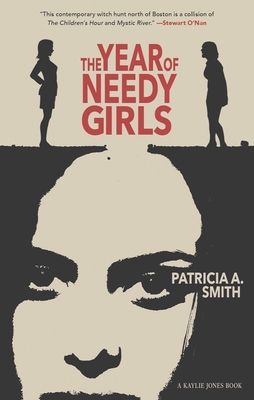 $15.95
Temporarily Unavailable
Description
---
Finalist for the Lambda Literary Award, Lesbian Fiction
Recalls both Hellman's The Children's Hour and Lehane's Mystic River in a story about murder and false accusations.
--Bay Area Reporter
A tense story about a small town swept up in bigotry and paranoia after the brutal murder of a local boy sends the residents into a frenzied witch hunt...Smith's crisp prose and dedication to realistic moral ambiguity make for a provoking read.
--Publishers Weekly
Smith's first novel successfully builds tension and a sense of dread among the picture-perfect New England fall.
--Library Journal XPress Reviews
Smith shows us the power of fiction to fully describe the internal and external forces that set the scene for unfounded accusations...Smith deftly builds tension...Smith shows us both the damage that will be ongoing and the revelations and growth that can arise out of ugly times. This is something to remember for the times ahead.
--Lambda Literary
Smith conveys the impact of this prejudicial hostility on two young women who are struggling to make their way in an intolerant world with a tender and delicate understanding in this nuanced tale of identity and misperception, connection and alienation.
--Booklist Online
Well-written. The dynamics between the lesbian couple are quite compelling. Smith takes on several important issues, such as classism, racism, and bigotry.
--The Gay and Lesbian Review
Throughout the novel, Smith peels back layers from relationships. Weaving throughout the story like twin strands of a braid are secrets and the eventual harm brought about by their revelation--prejudices exposed and lies told by loved ones uncovered. From a landscape peopled with supportive neighbors, coworkers and lovers of all types, Smith erases the certainty underlying characters' beliefs and sets them tumbling into chaos. The Year of Needy Girls is an intelligent and captivating read that will spur readers to question their own truths.
--VA Living Magazine
Included in BookRiot's list of 9 Small Press Books to Read in January 2017
This well crafted novel stands out for a number of reasons--the nuanced descriptions of the characters' complex feelings, the realistic portrayal of how quickly a person's life and a community can fall into crisis, and the focus on two lesbians and the challenges they face.
--World Wide Work
A recommended novel that explores small town bigotry.
--She Treads Softly
A tale of persecution where it shouldn't have happened...There are many people you can't trust. And it's hard to tell.
--Journey of a Bookseller
A young boy's murder unleashes chaos in the life of a schoolteacher and a small New England town.
Bradley, Massachusetts is in many ways a typical small New England town, but a river divides it in half--on one side, the East End: crowded triple-deckers, the Most Precious Blood parish, and a Brazilian immigrant community; and on the other, the West End: renovated Victorians, Brandywine Academy, and families with last names as venerable as the Mayflower.
Deirdre Murphy and her partner Sara Jane (SJ) Edmonds have just moved to their first house--and for the first time are open in their relationship--in the West End, where Deirdre teaches at Brandywine Academy. A dedicated teacher from a working-class background, she is well loved by her students. But the murder of ten-year-old Leo Rivera from the East End changes everything--for Deirdre and SJ, for the girls at Brandywine, and for all of Bradley. And when Deirdre is falsely accused of sexually molesting one of her students, the entire town erupts.

About the Author
---
Patricia A. Smith's nonfiction has appeared in several anthologies including One Teacher in Ten: Gay and Lesbian Educators Tell Their Stories and One Teacher in Ten in the New Millennium: LGBT Educators Speak Out About What's Gotten Better . . . and What Hasn't. Her work has appeared or is forthcoming in such places as Salon, Broad Street, Prime Number, and Gris-Gris. The Year of Needy Girls is her first novel. A native New Englander, Smith now lives in Chester, Virginia, with her partner.