Five Billion Years of Solitude: The Search for Life Among the Stars (Paperback)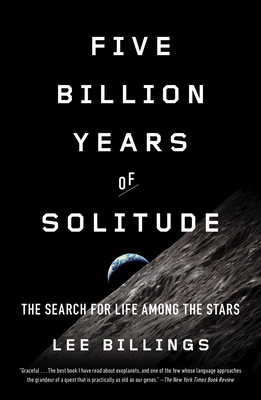 $17.00
NOT on our shelves now. Usually ships 1-10 business days from warehouse. ETA will be updated with email order confirmation.
Description
---
"A definitive guide to astronomy's hottest field." —The Economist
Since its formation nearly five billion years ago, our planet has been the sole living world in a vast and silent universe. But over the past two decades, astronomers have discovered thousands of "exoplanets," including some that could be similar to our own world, and the pace of discovery is accelerating.

In a fascinating account of this unfolding revolution, Lee Billings draws on interviews with the world's top experts in the search for life beyond earth. He reveals how the search for exoplanets is not only a scientific challenge, but also a reflection of our culture's timeless hopes, dreams, and fears.
About the Author
---
Lee Billings is a science journalist whose work has appeared in Nature, New Scientist, Popular Mechanics, and Scientific American. He lives in New York.
Praise For…
---
"Graceful... the best book I have read about exoplanets, and one of the few whose language approaches the grandeur of a quest that is practically as old as our genes."
 —New York Times Book Review
 
"Will leave readers who aren't rocket scientists slack-jawed"
 —New York Times

"Billings performs a brilliant sleight of hand…the ending is a poignant reminder that humankind may yet find a way to the stars, but people — the ones we know, the ones we love, the ones we lose — are our entire history and our full universe."
—The Washington Post
 
"The search for Earth-like worlds orbiting distant stars is just a step in the age-old quest to learn whether or not we are alone in the universe. In his compelling, wide-ranging survey, Billings steps back to look at this broader picture, largely through richly textured portraits of some of the giants of the field...[an] extraordinary tale of scientific discovery."
 —Scientific American

"Fascinating… A great outline of the subject, bringing what's often treated as science fiction down to Earth where it can be understood."
—Kirkus Reviews
 
"Exoplanet detection is space science's hottest field, one which science writer Billings surveys here with exceptional clarity while peering over the shoulders of the planet hunters' leading pioneers…a fascinating and informative read for both casual and serious astronomy buffs."
 —Booklist
 
 "Readers will find [Five Billion Years of Solitude] incredibly engaging…Billings has created a book that is not only entertaining, but educational as well."
– Universe Today

"Billings communicates scientific and technical detail fluently, and there is much here to please any geek who does not already know how, say, it is possible to see a distant planet next to a star that outshines it as an exploding nuclear bomb does an unlit match."
 —The Guardian
 
"Astrobiology, the study of alien life, has been a dream—until now. Suddenly the detection of life on other planets no longer seems quite so peculiar. Lee Billings explains how the impossible dream became possible after all."
 —The Economist "Books of the year"