People Kissing: A Century of Photographs (Vintage snapshots and postcards, a great gift for engagements, wedding showers, and anniversaries) (Hardcover)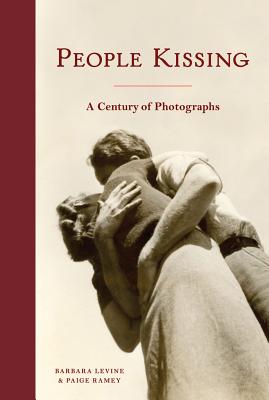 $16.95
ON HAND in at least ONE of our stores. Click through or call for up-to-the-minute availability.
Description
---
Love is in the air as Barbara Levine and Paige Ramey take on humankind''s oldest pastime: kissing. In racy candids, humorous vintage postcards, and snapshots taken on the sly, couples from the Victorian era through the Swinging Sixties smooch, canoodle, neck, and spoon. The collected photographs are sweet, sincere, and saucy, occasionally awkward, and always intriguing: Who took these photos? And what lay in store for these amorous couples after the shutter clicked—true love or just a passing fancy? People Kissing is the perfect gift to share with a sweetheart any day you feel like making a public display of affection.
About the Author
---
Barbara Levine and Paige Ramey are collectors, artists, and curators specializing in vernacular photography and offbeat collections. They run Project B, a found-photo archive and curatorial services company. They live in Houston, Texas, and San Miguel de Allende, Mexico.
Praise For…
---
"From simple pecks to full-on makeout sessions, a new compilation of photographs reveals how couples have kissed in front of the camera since the late-Victorian era..[People Kissing] includes more than 100 photographs and postcards, dating back to the late-19th-century Victorian period, of people locking lips, be it as a joke among friends, as an overdramatized performance for the camera or as an emotionally charged act of love."
- New York Times Lens Blog

"In [People Kissing]'s pages, there are lusty, supine caresses with ties akimbo and shoes urgently cast off, or sweet, innocent nuzzles delivered in public. There is young love, same-sex love, mixed-race love, and senior love. There are kisses cast into the air, planted passionately on necks, or stolen in the curtained semi-secrecy of a photo booth. Some are staged with great care; others are wildly spontaneous."
- Artsy

"In their latest book, People Kissing, Barbara Levine and Paige Ramey-who describe themselves as "artists who collect and archivists who curate"-continue their exploration of vintage vernacular photography by examining the act of kissing. Acquiring old photographs and postcards from eBay, garage sales and via donations, Levine and Ramey have previously looked at themes such as fishing and knitting. This compilation stretches back to the late 19th century and documents everything from the light-hearted peck on the cheek to the passionate embrace"
- The Financial Times

"Mwah....People Kissing stresses the delightful, charming side of the kiss as a signal of desire, passion, friendship, and familial love. Rich, delicious, sweet, those are pretty much the kisses the camera loves the most - especially when just-folks are taking photos of just-folks. What fun that act itself is, naughty, a tease, remembrance, evidence. I caught you!"
- Philadelphia Inquirer

"People Kissing: A Century of Photographs by Barbara Levine and Paige Ramey, is not to be missed...I'm not always a fan of such thematic, nostalgic pictorial revues, but People Kissing is truly charming in so many loving, heartfelt and witty ways."
- PRINT Online

"Valentine's Day is just around the corner, and what better way to show someone you love them than giving them this romantic book."
- Daily Mail (UK)

Proust said that "every kiss calls other kisses". Barbara Levine and Paige Ramey, artists and Texas collectors, confirm the assumption by publishing a book called People Kissing (Princeton Architectural Press). A journey through time, from the Victorian era to Swingin 'London, told with private, public, bizarre and often unknown images of the most romantic gesture there is. For lovers of all ages.
- Marie Claire Italia