Making Books: A Guide to Creating Handcrafted Books (Creating Books, Bookmaking Book, DIY Introduction to Bookmaking) (Hardcover)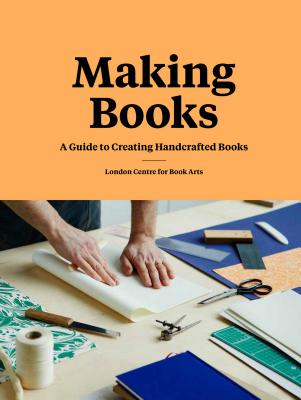 $35.00
ON HAND in at least ONE of our stores. Click through or call for up-to-the-minute availability.
Description
---
From the London Centre for Books Arts, the internationally recognized, artistrun, open-access studio at the forefront of the book-craft community, comes this definitive manual for creating hand-bound books. Making Books: A Guide to Creating Handcrafted Books offers beginners and advanced artists alike a comprehensive overview of the tools, principles, and techniques used in hand bookbinding. Through hundreds of vibrant photographs and clear illustrations showing step-by-step instructions, Making Books leads readers through six bookbinding projects, from pamphlets and concertinas to multisection case bindings, for aspiring binders to learn and master.
About the Author
---
Established in 2012, the London Centre for Book Arts provides education programs and access to resources for artists, designers, and makers. Their mission is to foster and promote the book arts and artist-led publishing through collaboration, knowledge sharing, and skills exchange, and by providing a space for hands-on experience.
Praise For…
---
"I would recommend it for high school students and adults. While some of the easier pamphlet style books could be created by younger students with supervision, I truly believe those aged 14 and up would most enjoy the process. It would be a wonderful resource for a high school art class, and could allow the students to make their own sketch books for their other artistic endeavors."
- Old Schoolhouse Magazine

"This handy manual offers beginners and advanced artists alike a comprehensive overview of the tools, principles, and techniques used in hand bookbinding. Step-by-step instructions, photographs, and illustrations lead aspiring bookbinders through six projects." - Fine Books & Collections