The Archer (Hardcover)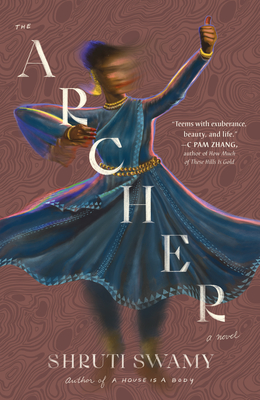 $26.95

ON HAND in at least ONE of our stores. Click through or call for up-to-the-minute availability.
September 2021 Indie Next List
---
"The Archer is the story of a young Indian woman who longs to be a classical dancer — to feel that rhythm, to have that as her life focus — yet is continually buffeted by her choices and those made for her."
— Becky Milner, Vintage Books, Vancouver, WA
Description
---
"Set in 1970s Bombay, the novel explores art, ambition, gender roles and class with the same shimmering prose of Swamy's first book, the story collection A House Is a Body."
—San Francisco Chronicle

"[A] sublime, boundary-pushing exploration of sexuality, creativity, and love."
—NPR
 
In this transfixing novel, a young woman comes of age in 1960s- and 1970s-era Bombay, a vanished world that is complex and indelibly rendered. Vidya's childhood is marked by the shattering absence and then the bewildering reappearance of her mother and baby brother at the family home. Restless, observant, and longing for connection with her brilliant and increasingly troubled mother, Vidya navigates the stifling expectations of her life with a vivid imagination until one day she peeks into a classroom where girls are learning kathak, a dazzling, centuries-old dance form that requires the utmost discipline and focus. Her pursuit of artistic transcendence through kathak soon becomes the organizing principle of her life, even as she leaves home for college and falls in complicated love with her best friend. As the uncertain future looms, she must ultimately confront the tensions between romantic love, her art, and the legacy of her own imperfect mother.

Lyrical and deeply sensual, with writing as mesmerizing as kathak itself, Shruti Swamy's The Archer is a bold portrait of a singular woman coming of age as an artist—navigating desire, duty, and the limits of the body. It is also an electrifying and utterly immersive story about the transformative power of art, and the possibilities that love can open when we're ready.
About the Author
---
Shruti Swamy is the author of the story collection A House Is a Body, which was a finalist for the PEN/Robert W. Bingham Prize and the Los Angeles Times Art Seidenbaum Award for First Fiction, and was longlisted for the Story Prize. Her work has been published by the Paris Review and McSweeney's and anthologized in the O. Henry Prize Stories. Her debut novel, The Archer, was published by Algonquin Books in September 2021 and has been longlisted for the Center for Fiction First Novel Prize. She lives in San Francisco.
Praise For…
---
Longlisted for the 2021 Center for Fiction First Novel Prize

"Mesmerizingly poetic . . . The Archer's beauty resides in Swamy's sequential narrative form, which reads like music—at times almost exactly like reading a musical score—but with something more; her words carry the visceral power of a dancer's intersection with air . . . [A] sublime, boundary-pushing exploration of sexuality, creativity, and love . . . A sensual, artful dance, powerfully told."
—NPR

"This novel swallowed me whole. The Archer is the kind of book you always hope for: lush and sensual, tasted and felt, with striking images that play out like film behind the eyes. Swamy evokes an India that resists flat stereotype and teems with exuberance, beauty, and life. The Archer is timeless yet utterly modern as it asks what it means for a woman to make a life of art."
—C Pam Zhang, author of How Much of These Hills Is Gold
 
"Shruti Swamy is a writer to celebrate. Her fiction is provocative, precise, and gorgeously inventive."
—Megha Majumdar, author of A Burning
 
"With its coiled energy and feverish imagery, The Archer often reads more like a lucid dream than a novel, oceans of wild feeling roiling just below the surface . . . Swamy writes about the imperatives of an artist's life with bright, furious poetry: the singular will of a body that burns to be in motion, and a mind set free."
—Entertainment Weekly
 
"[A] visceral first novel . . . The Archer blends the corporeal and the spiritual in a story about what it means to be a woman and an artist. Swamy's writing is transportive, precise and almost hypnotic . . . The author's perceptive and observant eye misses nothing."
—BookPage 
 
"Set in 1970s Bombay, the novel explores art, ambition, gender roles and class with the same shimmering prose of Swamy's first book, the story collection A House Is a Body."
—San Francisco Chronicle
 
"A searing portrait of the woman artist . . . Shruti Swamy has defined herself as a bold new voice in not only South Asian diaspora literature, but modern literature as a whole."
—Chicago Review of Books
 
"Every page of The Archer holds evidence of Swamy's talent, each sentence a performance so strong as to appear effortless. But just as with an elite dancer, only in the recognition of the effort can we truly appreciate the art. Like any rapt audience, readers will delight and despair in the fiercely wrought world of The Archer, fully aware they are witnessing greatness."
—Chapter16
 
"Lush and poetic."
—Ms. Magazine

"Swamy's prose is incantatory and often lovely, swirling in dancelike rhythms that sweep the story along. She builds a complex character in Vidya, whose urge toward autonomy brings results that range from ecstatic to tragic. A young woman seeks freedom through art in a mesmerizing coming-of-age story."
—Kirkus Reviews
 
"A saga as rich and gorgeous as Kathak itself."
—Library Journal
 
"As in her lauded debut collection, A House Is a Body, Swamy examines women's ownership of their very selves… [and] challenges expectations and exposes the limitations of being female."
—Booklist
 
"[An] affecting debut novel . . . Swamy confidently evokes the time and place with spare, precise prose. This writer continues to demonstrate an impressive command of her craft."
—Publishers Weekly

"This is a singular work, a story of a dancer, and of a hungry self seated at the table of womanness and desire and art, told with unparalleled originality and elegance. Swamy writes with a thrilling clarity of vision that wakes the sleepwalker right into joyful consciousness. Every word is intimate, honest, ecstatic—utterly alive."
—Meng Jin, author of Little Gods 

"The Archer is a stunning novel, as intimate and visceral as an expertly executed dance. Swamy's arresting and immersive prose vibrates with attention, and does what the best writing does: it leaves me more alive in my own body, and renders the world around me richer—more layered—with meaning. Meditating on what it means to be an artist (and a woman), Swamy has created her own wondrous work of art—singular, unforgettable, and important."
—Rachel Khong, author of Goodbye, Vitamin

"Alive with desire, Shruti Swamy's prismatic language glimmers with the force that drives her characters to dance, beating against the restrictions of body, society, tradition, sexuality, and the fallible self toward a liberatory devotion to life. A gorgeous, taut, deeply embodied reading experience, The Archer further establishes Swamy as a writer of thrilling talent."
—Asako Serizawa, author of Inheritors

"The Archer unfolds like an urgent dream, its heroine's desire—for artistic transcendence, love, and liberation—its driving pulse. This novel, and the many keenly rendered moments within its pages (a swirl of bright fabric, the temperature of a lover's skin, the abrupt chilling of a mood) lodged themselves in my consciousness long after. Shruti Swamy is one of the most gifted, excitingly unpredictable writers working today."
—Mimi Lok, author of Last of Her Name 

"Shruti's Swamy's The Archer combines exquisite prose with a kind of rare narrative propulsion. I found myself reading slower and slower, to make the sentences last even longer. By the end I was exhilarated and deeply moved. The Archer is a flat-out gorgeous piece of work."
—Peter Orner, author of Maggie Brown & Others