The Optimistic Decade (Hardcover)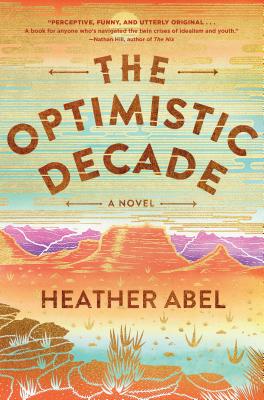 $26.95
Temporarily Unavailable
June 2018 Indie Next List
---
"When faced with a world you don't like, do you engage as a social justice advocate or do you head to the wilderness to live off the land and contribute as little as possible to this capitalist society? Rebecca, fresh off of her first year at UC Berkeley and a lifetime of attending rallies and protests with her activist parents, finds herself pondering this question. In a tale that spans the Reagan and George H.W. Bush presidencies and two generations of three interconnected families, Abel skillfully presents arguments for and against following your heart, sticking to your principles, and engaging with the world. Ultimately, we are left to reflect on where we are in our own personal 'Optimistic Decade,' and what we will do with that time."
— Jessica Fowle, Bookbug, Kalamazoo, MI
Description
---
"Bighearted, wise, and beautifully written, this sharply observant exploration of idealism gone awry engages at every level." —Andrea Barrett, author of The Voyage of the Narwhal and Archangel

This entertaining and assured debut novel about a utopian summer camp and its charismatic leader asks smart questions about good intentions gone terribly wrong.

Framed by the oil shale bust and the real estate boom, by protests against Reagan and against the Gulf War, The Optimistic Decade takes us into the lives of five unforgettable characters and is a sweeping novel about idealism, love, class, and a piece of land that changes everyone who lives on it.

There is Caleb Silver, the beloved founder of the back-to-the-land camp Llamalo, who is determined to teach others to live simply. There are the ranchers, Don and his son, Donnie, who gave up their land to Caleb and who now want it back. There is Rebecca Silver, determined to become an activist like her father and undone by the spell of both Llamalo and new love; and there is David, a teenager who has turned Llamalo into his personal religion.

Heather Abel's novel is a brilliant exploration of the bloom and fade of idealism and how it forever changes one's life.
About the Author
---
Heather Abel was raised in Santa Monica, California. She attended Swarthmore College and subsequently worked as a reporter and editor for political newspapers. Her essays have been published in the New York Times, the Los Angeles Times, Slate, and elsewhere. She received her MFA in fiction from the New School, where she later taught creative nonfiction writing. She lives in Northampton, Massachusetts, with her husband and two daughters.
Praise For…
---
"Abel, who previously worked as a reporter, is a perceptive writer whose astute observations keep the book funny and light even under the weight of its Big Ideas. [She] draws convincing parallels between the rituals of camp and those of activism. Is this a book about the failure of Zionism, an exploration of the limits of idealism or a literary coming-of-age novel? It's a bit of all three. Most interestingly, it doesn't just rehash the story of the Holy Land we already know, but imagines a new, subversive ending."
—New York Times Book Review

"The Optimistic Decade is a stunning and unusual debut.  Heather Abel's subjects are political idealism, American-style lust for land, and the perils and pleasures of young love. Her voice is warm, beautifully funny, and completely original. Although the novel spans decades and tackles big themes, its intimate moments and vivid creation of an unforgettable landscape are what continue to haunt me. Once you enter the world of this book, you—like the characters—will find it hard to leave."
—Stephen McCauley, author of My Ex-Life
 
"Funny and ruefully astute."
—People

"The Optimistic Decade is a stunning and unusual debut.  Heather Abel's subjects are political idealism, American-style lust for land, and the perils and pleasures of young love. Her voice is warm, beautifully funny, and completely original. Although the novel spans decades and tackles big themes, its intimate moments and vivid creation of an unforgettable landscape are what continue to haunt me. Once you enter the world of this book, you--like the characters--will find it hard to leave."
--Stephen McCauley, author of My Ex-Life
 
"I loved every minute I spent reading Heather Abel's The Optimistic Decade, a sharply rendered portrait of America in 1990. The novel is rich in the conflicting energies of the time—lingering resentments from the previous decade's stark class divisions, a renewed hope for the decade to come — and these clashes are played out over the course of one summer at a Colorado camp. The result is an exuberant and nonjudgmental examination of the unique conflicts of the era."
—Arianna Rebolini, BuzzFeed
 
"Abel's timely debut is bound to draw comparisons to The Interestings by Meg Wolitzer. The Optimistic Decade follows five characters in Reagan-era America, and explores the limits of idealism and the complexities of well-intentioned activism."
—Entertainment Weekly
 
"The best, worst, right, and left of America's ideologies mash up in The Optimistic Decade."
—New York Magazine
 
"A utopian summer camp born of an oil bust and populated by people both yearning for a waning idealism and coming to terms with their lives and relationships? Sign us up. Heather Abel's sharp and shining debut brings to life a quirky, specific landscape that brings into focus essential truths about life—growing up and into it, and just plain living it."
—SouthernLiving.com
 
"A sharply funny novel about a Utopian summer camp presided over by charismatic leader Caleb Silver, who's on a mission to teach others to live simply."
—NY Post
 
"In her debut novel, The Optimistic Decade, Heather Abel explores the moral evolutions of adolescence with a charming coming-of-age story about two lonely teenagers and the summer that brought them together. Writing with both warmth and incisiveness, Ms. Abel has crafted an engaging look at idealism and the difficulties in maintaining it. The Optimistic Decade is an exceptionally timely look at what it means to be politically aware and reminds readers of the intoxicating power of idealism, particularly when we find ourselves on the precipice of independence."
—Pittsburgh Post-Gazette
 
"The Optimistic Decade deserves the elusive accolade of "original" for its believable construction and flawless attention to detail. Within the brilliant, multilayered canopy of the novel's world, Heather Abel's writing comes across as a sincere and tender channel for a story that must be told . . . this strong, astute debut is a study of love in many forms. To read it is nothing less than a mitzvah."
—BookPage
 
"A coming-of-age story set in the age of Reagan and Bush, Heather Abel's wonderful novel asks a question that's more relevant now than ever: Amid the maddening news of the world, how do you go about living an authentic life? Perceptive, funny, and utterly original, The Optimistic Decade is a book for anyone who's navigated the twin crises of idealism and youth."
—Nathan Hill, author of The Nix
 
"This witty and psychologically astute debut novel could not be more timely."
—Peter Heller, author of Celine and The Dog Stars

"What does it mean to measure our goodness against wide-open spaces? In Heather Abel's sharp, beautiful debut, American idealism and the obsession with land meet up on a single plateau in the Rockies, leading to a summer of stunning consequences. Long after The Optimistic Decade has ended, readers will linger with these pages, haunted by Abel's ability to bring both the spectacular and the intimate to life."
—Mira Jacob, author of The Sleepwalker's Guide to Dancing
 
"Big-hearted, wise, and beautifully written, this sharply observant exploration of idealism gone awry engages at every level."
—Andrea Barrett, author of The Voyage of the Narwhal and Archangel 
 
"Heather Abel writes with beguiling humor about the possibilities of self transformation and the limits of idealism. I love the warmth with which she invokes her characters, young and middle-aged, and the wit with which she invokes their longing to be their best selves. The Optimistic Decade is a gripping and very timely debut."
—Margot Livesey, author of Mercury
 
"A fresh and savvy first novel."
—BBC.com

A "politically and psychologically acute debut… A strong sense of time and place anchors the story, and Abel's well-crafted plot brings all the strands of the story together into a suspenseful yet believable conclusion. Without landing heavily on any political side, and without abandoning hope, Abel's novel lightly but firmly raises questions about how class and cultural conflicts play out in the rural West."
—Publishers Weekly (starred review)
 
"This is an excellent coming-of-age tale with a sympathetic cast of characters. …a realistic, romantic, and thought-provoking story."
—Library Journal (starred review)
 
"In a comic debut, the lives of five characters come undone at a remote Colorado summer camp . . . Abel is excellent at class resentment and its signifiers . . . [she] writes in larking, pleasurable sentences, letting each protagonist...wrestle with loneliness and horniness and purpose . . . A playful look at Jewish coming-of-age and coming-to-terms in the American West."
—Kirkus Reviews
 
"A generous, thoughtful view of youthful passion and idealism seen through the lens of age, as its characters struggle with questions of personal authenticity."
—Library Journal