Les Miserables (Paperback)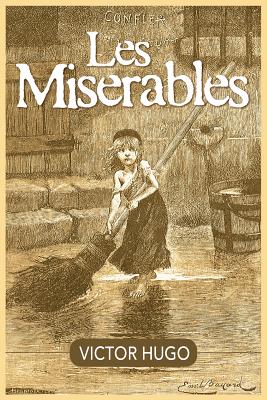 Not available to order
NOT on our shelves now. Usually ships from warehouse in several days.
Description
---
Introducing one of the most famous characters in literature, Jean Valjean--the noble peasant imprisoned for stealing a loaf of bread--"Les Miserables" ranks among the greatest novels of all time. In it, Victor Hugo takes readers deep into the Parisian underworld, immerses them in a battle between good and evil, and carries them to the barricades during the uprising of 1832 with a breathtaking realism that is unsurpassed in modern prose. Within his dramatic story are themes that capture the intellect and the emotions: crime and punishment, the relentless persecution of Valjean by Inspector Javert, the desperation of the prostitute Fantine, the amorality of the rogue Thenardier, and the universal desire to escape the prisons of our own minds. "Les Miserables "gave Victor Hugo a canvas upon which he portrayed his criticism of the French political and judicial systems, but the portrait that resulted is larger than life, epic in scope--an extravagant spectacle that dazzles the senses even as it touches the heart.
This Signet Classics edition is the ONLY completely unabridged paperback edition available today.
Translated by Lee Fahnestock and Norman Macafee, based on the classic nineteenth-century Charles E. Wilbour translation
With an Introduction by Lee Fahnestock
and a New Afterword

About the Author
---
The son of a high officer in Napoleon's army, Victor Hugo (1802-85) spent his childhood against a background of military life in Elba, Corsica, Naples, and Madrid. After the Napoleonic defeat, the Hugo family settled in straitened circumstances in Paris, where, at the age of fifteen, Victor Hugo commenced his literary career with a poem submitted to a contest sponsored by the Academie Francaise. Twenty-four years later, Hugo was elected to the Academie, having helped revolutionize French literature with his poems, plays, and novels. Entering politics, he won a seat in the National Assembly in 1848; but in 1851, he was forced to flee the country because of his opposition to Louis-Napoleon. In exile on the Isle of Guernsey, he became a symbol of French resistance to tyranny; upon his return to Paris after the Revolution of 1870, he was greeted as a national hero. He continued to serve in public life and to write with unabated vigor until his death. He was buried in the Pantheon with every honor the French nation could bestow.