I Loved Jesus in the Night: Teresa of Calcutta—A Secret Revealed (Paperback)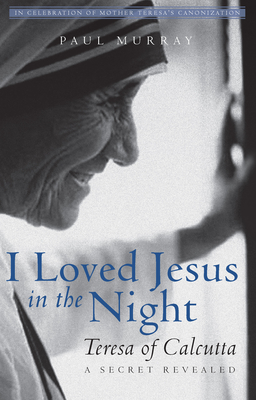 $16.99

NOT on our shelves now. Usually ships from warehouse in several days.
Description
---
I Loved Jesus in the Night is one priest's compelling account of meeting with the Saint of Calcutta. Sharing anecdotes and first-hand experiences, Paul Murray offers a glimpse into why Mother Teresa could declare, in one of her letters, that if ever she were to "become a saint," she would surely be one of "darkness."

This very personal yet powerful book is an attempt to come to terms with the dark night experiences endured by Mother Teresa in the light of the Gospel and the mystical teachings of St. John of the Cross. And something else as well—revelations of Mother Teresa's sense of humor!

"This book is easy to read and gives insights into the spiritual life and relationship with Jesus that drove this carrier of God's love to serve the poorest of the poor." —Catholic Missourian
About the Author
---
Paul Murray O.P. is an Irish Dominican, a poet, and a professor in Rome at the University of St. Thomas, the "Angelicum." He is the author of several books which have been published in Ireland, England, and the United States including The New Wine of Dominican Spirituality: A Drink Called Happiness; A Journey with Jonah: The Spirituality of Bewilderment; T. S. Elliot and Mysticism: The Secret History of "Four Quartets"; and four collections of poetry. He lives in Rome, and is well known as a speaker throughout the United States.
 
Praise For…
---
"I Loved Jesus in the Night tells of Dominican Father Paul Murray's encounter with Mother Teresa as well as his reflection on her spirituality which she herself described as a spirituality of darkness. Having been moved by her message when he first heard her give a lecture in Rome in the 1970s, Father Murray became a lifelong student/devotee of Mother Teresa, and found himself particularly moved by her spirituality of profound anguish marked by the sense of God's seeming absence or abandonment. Drawing parallels between Mother Teresa's spirituality and that of other saints like John of the Cross or Bernadette of Soubirous, Fr. Murray offers an insightful glimpse into the psychology not only of holiness, but of contemplation as well." —Carl McColman, A Contemplative Faith Blog

"Written to celebrate the canonization of Mother Teresa (who was beatified in 2003 by Pope John Paul II), I Loved Jesus in the Night: A Secret Revealed is the testimony of a priest who met with Mother Teresa firsthand. Drawing upon anecdotes, primary testimonies, and Mother Teresa's own correspondence, I Loved Jesus in the Night is emotionally moving, completely candid, and a choice pick for Christian Studies shelves. Highly recommended!" —Midwest Book Review