The Dark Net: Inside the Digital Underworld (Paperback)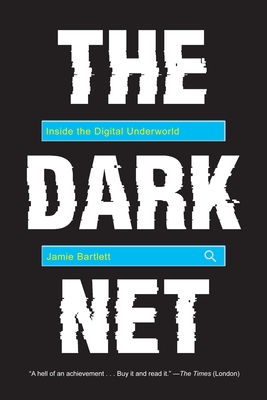 List Price: $17.95
Our Price: $16.95
(Save: $1.00 6%)
ON HAND in at least ONE of our stores. Click through or call for up-to-the-minute availability.
Description
---
An NPR Best Book of the Year
Included in The Washington Post's Notable Nonfiction of the Year
An Independent and New Statesman Book of the Year

Beyond the familiar online world that most of us inhabit—a world of Google, Facebook, and Twitter—lies a vast and often hidden network of sites, communities, and cultures where freedom is pushed to its limits, and where people can be anyone, or do anything, they want. This is the world of Bitcoin, 4chan, and Silk Road, of radicalism, crime, and pornography. This is the Dark Net.

In this important and revealing book, Jamie Bartlett takes us deep into the digital underworld and presents an extraordinary look at the internet we don't know. Beginning with the rise of the internet and the conflicts and battles that defined its early years, Bartlett reports on trolls, pornographers, drug dealers, hackers, political extremists, Bitcoin programmers, and vigilantes—and puts a human face on those who have many reasons to stay anonymous.

Rich with historical research and revelatory reporting, The Dark Net is an unprecedented, eye-opening look at a world that doesn't want to be known.
About the Author
---
JAMIE BARTLETT is the Director of the Centre for the Analysis of Social Media at the think tank Demos, where he specializes in online social movements and the impact of technology on society. Prior to his work with Demos, he was a research associate at the international humanitarian agency Islamic Relief and conducted field research in Pakistan and Bangladesh. A graduate of the London School of Economics and the University of Oxford, Bartlett writes a weekly column on technology for the Telegraph and is a frequent commentator for media outlets throughout the world. He lives in London.
Praise For…
---
An NPR Best Book of the Year
Included in The Washington Post's Notable Nonfiction of the Year
Included in NPR's "On Point" Best Summer Books
A Flavorwire Best Nonfiction Book of the Year So Far
An Independent Book of the Year
A New Statesman Book of the Year

"Bartlett combines an insider's expertise with a neophyte's tale of discovery. Rather than measure the pros and cons of the Web, he maps its frontiers without judgment. The result is a lucid inquiry into the relationship between technology and freedom that's also a captivating beach book."
—WASHINGTON POST

"One of the truly indispensable works of nonfiction released in 2015."
—Jonathon Sturgeon, FLAVORWIRE

"It is Bartlett's plentiful and fascinating interviews with the denizens of the dark net that make his book so compelling... Quite worrying, a bit disgusting, highly voyeuristic, and occasionally very funny: this is the nature of both the dark net and The Dark Net."
—BARNES & NOBLE REVIEW

"Fascinating...a provocative journey through the deep web's history, its varied guiding philosophies, and the bizarre, iconoclastic, often criminal behaviors it conceals and energizes."
—BROOKLYN RAIL

"Bartlett doesn't just tell us about the dark net; he also rips through the cloak of anonymity to let us meet some of its denizens... It's a disturbing book, but it's meant to be."
—BOOKLIST

"A provocative excursion to the darker side of human nature set free by the anonymous and unregulated boundaries of cyberspace."
—KIRKUS REVIEWS

"Reveals a hidden, seedy world where people lurk behind pseudonyms and dupe others into revealing their bodies on camera to be used against them in public shaming. If you're shocked to discover that last year approximately 20 per cent of drug users bought their stash online, you'll find this fascinating. Bartlett is an able guide on a journey through the margins of the web."
—Max Wallis, INDEPENDENT
 
 "A judgement-free look at the mechanics of trolling and other internet bad behaviour and generates more light than heat."
—Helen Lewis, NEW STATESMAN
 
"A hell of an achievement . . . Buy it and read it."
—Hugo Rifkind, THE TIMES (London)
 
"Bartlett anatomises the usual bogeymen and demonstrates that they're real. The Dark Net is, for anyone engaged with the web and the effects it is having on our culture, necessary reading . . . a flashlight in a dark, dark cellar."
—Michael Bywater, SPECTATOR
 
"A fascinating and disturbing exploration of the outer edges of the internet and the human mind."
—Josh Cohen
 
"A fascinating and disturbing journey through the furthest recesses of the Internet. Jamie Bartlett is an expert guide . . . he shines an invaluable light on a world that remains determinedly opaque."
—Ian Burrell, INDEPENDENT
 
"[A] thorough and assiduously researched account of the deviantly erotic, subversive and criminal aspects of web life."
—Bryan Appleyard, SUNDAY TIMES
 
"A confident and well-informed guide . . . By meeting the people behind the online activity, Bartlett humanises it."
—Douglas Heaven, NEW SCIENTIST
 
"The Dark Net offers smart, provoking reportage from the crooked crannies of digital culture, married to a quietly impressive analysis of how technology is amplifying both the best and the worst of us. Required reading for anyone looking to escape media hysteria and get to grips with the 21st century's most compelling, discomforting complexities."
—Tom Chatfield
 
"A well-researched book, studded with enlightening interviews."
—MAIL ON SUNDAY