Gnarr: How I Became the Mayor of a Large City in Iceland and Changed the World (Hardcover)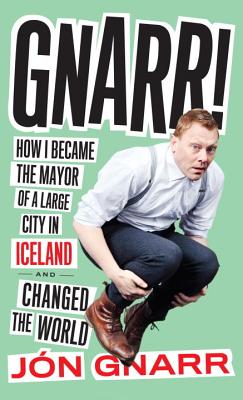 $26.35
Temporarily Unavailable
Description
---
In the epicenter of the world financial crisis, a comedian launched a joke campaign that didn't seem so funny to the country's leading politicians . . .

It all started when Jón Gnarr founded the Best Party in 2009 to satirize his country's political system. The financial collapse in Iceland had, after all, precipitated the world-wide meltdown, and fomented widespread protest over the country's leadership.

Entering the race for mayor of Reykjavík, Iceland's capital, Gnarr promised to get the dinosaurs from Jurassic Park into downtown parks, free towels at public swimming pools, a "drug-free Parliament by 2020" . . . and he swore he'd break all his campaign promises.

But then something strange started happening: his campaign began to succeed. And in the party's electoral debut, the Best Party emerged as the biggest winner. Gnarr promptly proposed a coalition government, although he ruled out partners who had not seen all five seasons of The Wire.

And just like that, a man whose previous foreign-relations experience consisted of a radio show (in which he regularly crank-called the White House and police stations in the Bronx to see if they had found his lost wallet) was soon meeting international leaders and being taken seriously as the mayor of a European capital.

Here, Gnarr recounts how it all happened and, with admirable candor, describes his vision of a more enlightened politics for the future. The point, he writes, is not to be afraid to get involved—or to take on the system.
About the Author
---
JÓN GNARR was born in 1967 in Reykjavík. He formed the Best Party in 2009 and became the mayor of Reykjavík in 2010. His acting work includes the movies The Icelandic Dream and A Man Like Me and the television series The Night Shift, which aired on BBC4. In 2014, at the end of Gnarr's mayoral term, the Best Party will be dissolved. Its members, however, have formed a new political party: Bright Future, which in 2013 won six seats in the Icelandic parliament.

ANDREW BROWN's recent translations include works by Proust, Zola, Flaubert, Stendhal, Rabelais, and Baudelaire.
Praise For…
---
"Jón Gnarr, the greatest accident in politics...Integral to Gnarr's ethos was the idea that politics is a crap job, just like any other crap job – so we all have the right to become involved just because we feel like it."
—New Statesman (UK)

"It should have been a disaster. Gnarr had no background in politics...While rival politicians ruthlessly went for him...voters were by and large charmed."
—the Guardian's G2 magazine (UK)

"Gnarr! is an entertaining reflection on life, politics, and human nature by an original and creative individual...It's a tribute to, and manifesto for, participatory democracy in the 21st century. And above all, it's a call for us all to be nicer to each other."
—PopMatters

"I love the mayor of Iceland."
—Lady Gaga

"Certainly my favorite mayor. No competition, in fact."
—Noam Chomsky

"Jón Gnarr has given the mayor profession a new human earnesty with radical stand-up style, and has chiseled away the stagnancy in that post with explosive humor."
—Björk