Bonsai: A Novel (Paperback)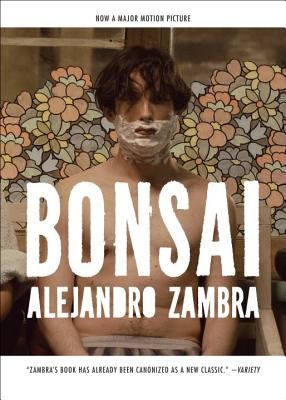 Not available to order
Hard to Find. Not available to order.
Description
---
"Winner of Chile's Literary Critics' Award for Best Novel"

Now a Major Motion Picture

Hailed as a great Latin American literary event, this stylistically innovative, elliptically told tale of a young man and his love who mysteriously disappears is, as the narrator tells us, "a simple story that becomes complicated."

Through both the distance and closeness of these young lovers, Alejandro Zambra brilliantly explores the relationship between art, love, and life. Bonsai is accessible yet profound—as one critic in Chile's Capital newspaper put it, "Brief as a sigh and forceful as a blow."

About the Author
---
Alejandro Zambra is a poet, novelist, and literary critic who was born in Santiago, Chile, in 1975.  He was selected as one of Granta's Best of Young Spanish-Language Novelists and was elected to the Bogotá39 list and is acclaimed as the greatest writer of Chile's younger generation. He is also the author of Ways of Going Home and The Private Lives of Trees.

Translator CAROLINA DE ROBERTIS was raised in England, Switzerland, and California by Uruguayan parents. Her fiction and literary translations have appeared in ColorLines, The Virginia Quarterly Review, The Indiana Review, and elsewhere. She is the author of The Invisible Mountain and Perla.
Praise For…
---
Praise for Alejandro Zambra's Bonsai

"The 'last truly great book' I read has to be Alejandro Zambra's Bonsai. A subtle, eerie, ultimately wrenching account of failed young love in Chile among the kind of smartypant set who pillow-talk about the importance of Proust. You get the cold flesh of the story in that chilling first line: "In the end she dies and he remains alone, although in truth he was alone some years before her death." But only by reading to the end do you touch the story's haunted soul. A total knockout."
—Junot Díaz, author of The Brief Wondrous Life of Oscar Wao

"The herald of a new wave of Chilean fiction..."
—Marcela Valdes, The Nation

"One of the greatest literary events of recent years."
—Alfonso Cortínez, Las Últimas Noticias

"An unclassifiable object of unusual beauty ... one of the best Chilean novels of recent times."
—David Lacalle, Capital

"Bonsai is an appealing miniature, a novella that, despite its brevity, feels airy and full … an enjoyable, pleasantly surprising, and clever read."
—The Complete Review

"Bonsai won the Chilean Critics Award for best novel of the year in 2006…and it's easy to understand why."
—Jonathan Messinger, Time Out Chicago

"What is remarkable about Zambra's novella is the space between ending and beginning—the progressive prose that relates a true story with emotional and artistic implications extending far beyond its 83 pages."
—Bookslut

"Zambra flexes some serious artistic muscle...."
—Rain Taxi

"For such a small book to have such well-rendered characters is impressive and this, in the end, is what is essential to the novella. A good novella must impress you with its tiny size and the power of its language."
—The Phoenix (PA)

"Undeniably fascinating...the kind of story that lingers in the mind for weeks after being read."
—The Quarterly Conversation