The Myth of the Andalusian Paradise: Muslims, Christians, and Jews under Islamic Rule in Medieval Spain (Hardcover)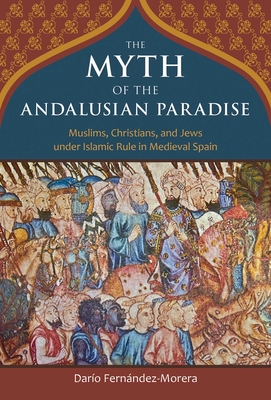 $29.95

NOT on our shelves now. Usually ships from warehouse in several days.
Description
---
A finalist for World Magazine's Book of the Year!
"Essential reading." 
—
Antonio Carreño
, Brown University  
"A watershed in scholarship." —Raphael Israeli, Hebrew University of Jerusalem
"Desperately, desperately needed as a counter to the mythology that pervades academia on this subject." —Paul F. Crawford, California University of Pennsylvania 
"An intelligent reinterpretation of a supposed paradise of convivencia." —Julia Pavón Benito, University of Navarra

"A splendid book . . . Must-reading." —Noël Valis, Yale University
"I am in awe of The Myth of the Andalusian Paradise." —FrontPage Magazine
"A bracing remedy to a good deal of the academic pabulum that passes for scholarship." —Middle East Quarterly
"An exhilarating and unput-downable read." —Standpoint
Scholars, journalists, and even politicians uphold Muslim-ruled medieval Spain—"al-Andalus"—as a multicultural paradise, a place where Muslims, Christians, and Jews lived in harmony.
There is only one problem with this widely accepted account: it is a myth.
In this groundbreaking book, Northwestern University scholar Darío Fernández-Morera tells the full story of Islamic Spain. The Myth of the Andalusian Paradise shines light on hidden history by drawing on an abundance of primary sources that scholars have ignored, as well as archaeological evidence only recently unearthed.
This supposed beacon of peaceful coexistence began, of course, with the Islamic Caliphate's conquest of Spain. Far from a land of religious tolerance, Islamic Spain was marked by religious and therefore cultural repression in all areas of life and the marginalization of Christians and other groups—all this in the service of social control by autocratic rulers and a class of religious authorities.
The Myth of the Andalusian Paradise provides a desperately needed reassessment of medieval Spain. As professors, politicians, and pundits continue to celebrate Islamic Spain for its "multiculturalism" and "diversity," Fernández-Morera sets the historical record straight—showing that a politically useful myth is a myth nonetheless.
About the Author
---
Darío Fernández-Morera is Associate Professor in the Department of Spanish and Portuguese at Northwestern University. A former member of the National Council on the Humanities, he holds a BA from Stanford University, an MA from the University of Pennsylvania, and a PhD from Harvard University. He has published several books and many articles on cultural, literary, historical, and methodological issues in Spain, Latin America, and the United States.
Praise For…
---
"Shows in meticulous detail . . . that intolerance, segregation, formal inequality, and brutality were the order of the day [in Islamic Spain]."
—The New Criterion
"[Fernández-Morera] must be commended for daring to wade into this hazardous arena. He has come well-armed: his The Myth of the Andalusian Paradise has 95 pages of notes, and the lionisers of political correctness will not find it easy to penetrate chinks in his bibliographical armour of primary and secondary sources, many not published in English. In an exhilarating and unput-downable read, Fernández-Morera debunks the fashionable myth that Muslims, Christians, and Jews lived together (convivencia) under 'tolerant' Muslim rule. . . . World-class academics—hailing from Yale, Harvard, Chicago, Princeton, London, Oxford—look like fools in their apologetics for jihad."
—Standpoint
"Numerous books propagandize for Islam by calling Muslim rule in Spain during the Middle Ages a golden age of tolerance. Darío Fernández-Morera's 
The Myth of the Andalusian Paradise: Muslims, Christians, and Jews Under Islamic Rule in Medieval Spain
 (ISI Books) cuts against PR for Islam by giving specific examples of rulers cutting off heads or applying burning candles to the faces of sexual slaves."
—
World magazine
, naming 
The Myth of the Andalusian Paradise
 a finalist for Book of the Year
"Often a work of historical revisionism is a dubious exercise in discovering trendy, hidden agendas with little bearing on the actual record of the past. The Myth of the Andalusian Paradise is decidedly not such a study and is instead a bracing remedy to a good deal of the academic pabulum that passes for scholarship on Jewish-Christian-Muslim relations."
—Middle East Quarterly
"A first-rate work of scholarship that demolishes the fabrication of the multiethnic, multiconfessional convivencia in Spain under Muslim rule. The book is also an exposé of the endemic problems of contemporary Western academe. . . . Space does not allow us to list all of the fables—some bizarre, others laughable, most of them infuriating—that Fernández-Morera dispatches with unassailable logic and ruthless efficiency."
—Chronicles
"I am in awe of The Myth of the Andalusian Paradise. . . . This book is an intellectual boxing match. The author shreds not just one opponent, but a series of intellectual bigots, prostitutes, and manipulators of the common man. . . . He uses research and objective facts to make his case. Nothing could be more transgressive in academia today."
—FrontPage Magazine
"The Myth of the Andalusian Paradise prompts readers to rethink their traditional notion of Islamic Spain. Fernández-Morera shows that it was not a harmonious locus of tolerance. Paying special attention to primary sources, he documents how Islamic Spain was in fact dominated by cultural repression and marginalization. The Myth of the Andalusian Paradise is essential reading. It will soon find its place on the shelves of premier academic institutions and in the syllabi of pioneering scholars."
—Antonio Carreño, W. Duncan McMillan Family Professor in the Humanities, Emeritus, Brown University 
"I could not put this book down. The Myth of the Andalusian Paradise constitutes a watershed in scholarship. Throughan unbiased and open-minded reading of the primary sources, Fernández-Morera brilliantly debunks the myths that for so long have dominated Islamic historiography and conventional wisdom. We were waiting for this great breakthrough to come to light, and Fernández-Morera has done it. Bravo!"
—Raphael Israeli, Professor Emeritus of Middle Eastern, Islamic, and Chinese History, Hebrew University of Jerusalem
"Fernández-Morera examines the underside of Islamic Spain, a civilization usually considered a model of dynamism and vigor. Through the study of primary sources, he questions the historiographic and intellectual view of the superiority of that civilization. This is an intelligent reinterpretation of a supposed paradise of convivencia."
—Julia Pavón Benito, Professor of Medieval Spanish History, University of Navarra
"Desperately, desperately needed as a counter to the mythology that pervades academia on this subject. This book sheds much-needed light on current debates about the relationship between the West and Islam. It displays rare good sense and a willingness to face truth that is all too often absent in discussions of this era."
—Paul F. Crawford, Professor of Ancient and Medieval History, California University of Pennsylvania
"A splendid book. This sober and hard-hitting reassessment demolishes the myths of religious tolerance and multiculturalism that have hopelessly romanticized the precarious coexistence and harsh realities of medieval Spain under Muslim rule. Well documented and persuasively argued, this book is must-reading as a window into the lessons of the past."
—Noël Valis, Professor, Department of Spanish and Portuguese, Yale University
"Fernández-Morera takes on the long-overdue topic of assessing medieval Muslim Spain's reputation for ethnic pluralism, religious tolerance, and cultural secularism. Finding this view based on a 'culture of forgetting,' he documents the reign of strict sharia in Andalusia, with its attendant discrimination against non-Muslims and subjugation of women. So much for the charming fantasy of open-mindedness and mutual respect."
—Daniel Pipes, historian of Islam and publisher of the Middle East Quarterly
"Brilliant . . . A thorough and entertaining study, as masterful as it is pointed."
—Catholic Culture
"Reveals the awesome and awful truth camouflaged by many in the West who have written apologies for Muslim-ruled Andalusia . . . More than 90 pages of footnotes to contemporary sources in their original languages make his thesis unassailable."
—New English Review