The Mummy Makers of Egypt (Hardcover)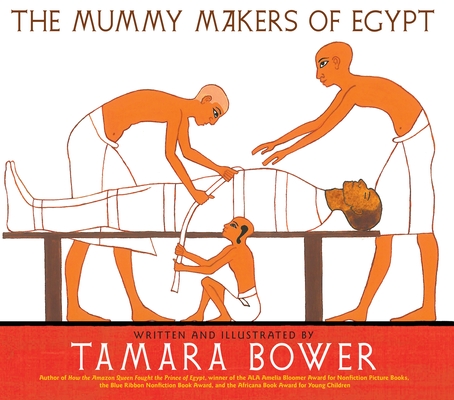 $20.85
Temporarily Unavailable
Description
---
A gorgeously illustrated story about a family of Egyptian embalmers that will enthrall kids with its mummy-making details and brilliantly painted pages.

From artist and Egypt specialist Tamara Bower comes her third, gorgeous book about Ancient Egypt. Using the classic style of Egyptian art, the book is painstakingly accurate in facts and illustrative style. Artifacts, funerary customs, kid-loving gory details of the mummification process, hieroglyphs, and details of life in ancient Egypt are told through the eyes of Ipy, whose father is embalmer to the King. Yuya, father of the Queen, has died and Ipy must help his father in the mummification process. Yuya is an actual mummy and the discovery of his tomb is an entertaining story in itself, with the archaeologist Theodore Davis fainting at the sight of so much gold, and the portly Gaston Maspero getting stuck while trying to climb into the tomb. Yuya's tomb was a spectacular discovery in the Valley of the Kings that was later overshadowed only by the discovery of King Tut, Yuya's great-grandson.

The book features sidebars of hieroglyphs and their meanings, a map, and an afterword telling more about the life of Yuya, of the burial process, and ancient Egypt in general. While there are a number of children's books on mummies, none are told from the point of view of the embalmers themselves, and none are illustrated with the meticulous eye of Tamara Bower.
About the Author
---
TAMARA BOWER has been fascinated by ancient Egypt since she was a child and dressed up to play as ancient Egyptians with her friends. She studied fine art in college and was trained in archaeological illustration at the Metropolitan Museum of Art, where she worked as a staff illustrator in the Department of Egyptian Art. She has also served as the technical illustrator for archaeological digs in Egypt, Turkey, Spain, Belize, and California. Bower is the author of three children's books about ancient Egypt: How the Amazon Queen Fought the Prince of Egypt (winner of the ALA Amelia Bloomer Award for Nonfiction Picture Books, the Blue Ribbon Nonfiction Book Award, and the Africana Book Award for Young Children), The Shipwrecked Sailor and, most recently, The Mummy Makers of Egypt. She lives in New York City.
Praise For…
---
"A charming and well-researched book with vivid, engaging, exquisite original artwork by Tamara Bower that brings ancient Egypt to life. A delight for children, aficionados of ancient Egypt, and scholars. It is definitely on my Christmas present list!"—Dr. Salima Ikram, professor of Egyptology, American University in Cairo

"Spectacular! The art is fabulous. The text is fascinating. This is going to be a classic." —Dr. Bob Brier, Egyptologist, author of "Egyptian Mummies: Unraveling the Secrets of an Ancient Art"

*"Award-winning author and illustrator Bower reveals the process of Egyptian embalming in a colorful and informative manner. The narrative follows the death and embalming of Yuya, an official of the royal court whose tomb was discovered in 1905 near the Valley of the Kings. The text begins with the historical context of embalming in ancient Egypt, followed by a description of the soul's journey to and judgment at the court of Osiris. The majority of the content thereafter concerns the process of embalming in greater detail and burial. Bower's training in archaeological illustration is evident in the book's stylized figures, all painted in classical Egyptian form. Solid earth tones guide readers through the narrative, and many illustrations are beautifully rendered. In this uniquely Egyptian style, Bower depicts the journey into the afterlife, the embalming priests, the colorful funerary processions, and hieroglyphics. The text is just as hearty as the artwork, the embalming process detailed in a respectful manner. Bower explains the process without dumbing down or sanitizing the material, describing the priests' careful incisions and the removal of organs. The culture of embalming is also examined. For instance, readers learn that the priest who made the abdominal incision was a specialist. After this priest made the incision, he was, by tradition, cast out by the other attending priests (with a wink and a nod), because it was wrong to cut a human body. Bower appends a useful article discussing the discovery of Yuya and his wife Thuya's tomb. Much like David L. Weitzman's Pharaoh's Boat, this offering succeeds in illuminating a specific element of ancient Egyptian life. VERDICT An artful and informational book on a high-interest topic." —School Library Journal, Starred Review