The Bird Saviors (Paperback)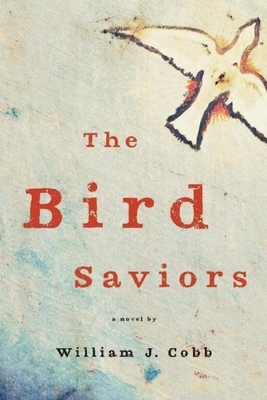 Email or call for price
Not Available to Order. Call or email for used stock availability.
June 2012 Indie Next List
---
"Set in the not-so-distant future, The Bird Saviors takes place in a destitute southern Colorado town where the characters are as damaged as the environment. Although stark and cruel, Cobb's tale has enough scenes of dark humor and irony to keep the reader turning the pages. He also allows us to discover the amazing warmth that lies hidden beneath the grim exterior of some remarkable and memorable characters."
— Joni Montover, Paragraphs on Padre Boulevard, South Padre Island, TX
Description
---
When a dust storm engulfs her Colorado town and pink snow blankets the streets, a heartbreaking decision faces Ruby Cole, a girl who counts birds: She must abandon her baby or give in to her father, whom she nicknames Lord God, and marry a man more than twice her age who already has two wives. She chooses to run, which sets in motion an interlocking series of actions and reactions, upending the lives of an equestrian police officer, pawnshop riffraff, a disabled war vet, Nuisance Animal destroyers, and a grieving ornithologist -- a field biologist studies the decline of bird populations. All the while, a growing criminal enterprise moves from cattle rustling to kidnapping to hijacking fuel tankers and murder as events spin out of control.

About the Author
---
William J. Cobb is the author a book of stories, The White Tattoo, and two previous novels, The Fire Eaters and, more recently, the critically acclaimed Goodnight, Texas. His short fiction has appeared in The New Yorker and in many other magazines. He has received numerous awards, including a National Endowment for the Arts grant, a Dobie-Paisano Fellowship, the Sandstone Prize, and an AWP Award for the Novel. He was raised in Texas and currently lives in Pennsylvania, where he teaches in the writing program at Penn State, and in Colorado.
Praise For…
---
AN INDIE NEXT PICK FOR JUNE 2012

GreenBook Festival Award Winner in Fiction 2012

The Bird Saviors has a surprisingly soft heart. Its characters are misfits, losers and outcasts, but they're also closet romantics, searching for love in the harsh Colorado landscape.a comedic yarn worthy of the big screen."
Dallas Morning News

Cobb has obviously figured out how to combine fine writing and suspense without straining credulity. an oddly affirming book."
Houston Chronicle

The Bird Saviors is an immersing and emotional piece of literature In a voice reminiscent of Charles Frazier's, The Bird Saviors tells a fascinating story of success in spite of chaos, opportunity in spite of despair, and love in spite of hate."
Booklist

Cobbcomes up with a story that is at once gritty and gripping, portentous yet promising, raw but redemptive... A touching and memorable tale that readers can't, and won't, soon forget... to say The Bird Saviors is amazing' is to short-change Cobb. For his is a timeless story of love and redemption, a classic tale of good vs. evil, and a can't-miss page-turner that leaves readers wanting more."
ForeWord Reviews

Bill Cobb's The Bird Saviors is a stark modern-day Old Testament story in which the evil that men do is barely balanced by the good that a few manage to achieve. It's a gritty harrowing story set in a dust-blown Colorado town that seems filled with vivid characters. Cobb's expert story-telling compels us forward scene by scene to a final satisfying redemption."
Kent Haruf

"A novel told with an unexpected and appealing warmth; the characters in The Bird Saviors become increasingly memorable, page by page, and the story pulled me in without hullabaloo or fuss-- this is good, confident storytelling."
Aimee Bender

Powerful."
Library Journal

If you enjoy books by Cormac McCarthy I think you'll enjoy this one too. I found it to be a compelling read."
Book Chatter