Rocket City (Paperback)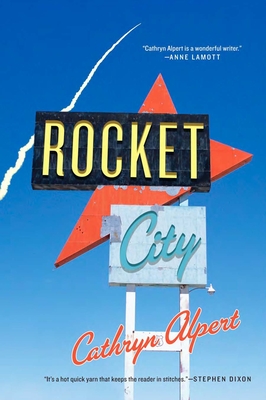 Email or call for price
Not Available to Order. Call or email for used stock availability.
Description
---
Marilee journeys from Los Angeles to New Mexico to surprise her fianc , Larry, who has taken a job on the Alamogordo Air Force Base to gain, in one of his antithetical Zen experiments, an understanding of peace. Sympathy for Enoch, a hitchhiking dwarf, disrupts her orderly plans. In a separate voyage, Figman, an insurance claims adjuster on the run, relocates to New Mexico after surviving a lethal car crash that results in an unfair lawsuit against him. Now prone to migraines and the conviction that he is dying, Figman embarks on new adventures. Late in the novel, these two distinct love stories converge on a highway in near collision.

About the Author
---
Cathryn Alpert's award-winning short stories appeared in numerous anthologies, including O. Henry Festival Stories, Best of the West 5, and Walking the Twilight: Women Writers of the Southwest, as well as in many literary magazines. She was a stage director and a teacher of theater, as well as a wife, and mother of two sons and three daughters. She died unexpectedly in 2010; Rocket City was her only published novel.