I Always Carry My Bones (Iowa Poetry Prize) (Paperback)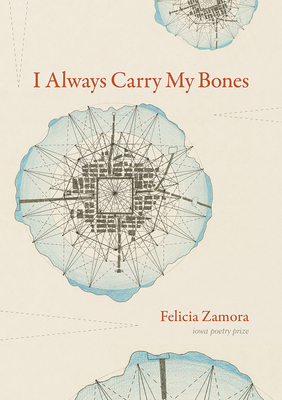 $20.00

ON HAND in at least ONE of our stores. Click through or call for up-to-the-minute availability.
Description
---
The poems in I Always Carry My Bones tackle the complex ideation of home—the place where horrid and beautiful intertwine and carve a being into existence—for marginalized and migrant peoples. Felicia Zamora explores how familial history echoes inside a person and the ghosts of lineage dwell in a body. Sometimes we haunt. Sometimes we are the haunted. Pierced by an estranged relationship to Mexican culture, the ethereal ache of an unknown father, the weight of racism and poverty in this country, the indentations of abuse, and a mind/physicality affected by doubt, these poems root in the search for belonging—a belonging inside and outside the flesh. This powerful collection is a message of longing for a sanctuary of self, the dwelling of initial energy needed for the collective fight for human rights.
About the Author
---
Felicia Zamora is author of five books of poetry including Body of Render. She is assistant professor of poetry at the University of Cincinnati, and associate poetry editor for the Colorado Review. She lives in Cincinnati, Ohio.
Praise For…
---
"It's said that the body remembers, and this book reveals that memories, too, embody. The story of a lived, living body is stored, stored-up until it spills over onto pages full of memories, rage, power, cruelty, survival, love . . . and some stubborn belief that a body will find a way to tell the truth. The poems ask: What did it take to survive? The poems answer: It took every cell moment by moment, accounted for, told on, inscribed, memorized."—Brenda Shaughnessy, judge, Iowa Poetry Prize

"'What dwells in land, dwells in you,'" writes Felicia Zamora in I Always Carry My Bones, a book that flows as streams do: relentlessly despite obstructions, despite injustices. Through a boundless range of analysis, Zamora renders trauma in the brown body as a 'lone thistle in the torrent of letters.' Her poems are ecstatic and leap in pursuit of truth and cruel beauties. Zamora's work will remind you that the world is the body— science and psyche. This book is thread let loose and there's no telling which direction Zamora will pull it."—Diana Marie Delgado, author, Tracing the Horse

"A body is a landscape. Ridges outlining a horizon, shared, even as yet remaining particular and positioned. In Zamora's lines, one connects images to narrative threads, peaks to trails, glimpsed like a face lit up 'amid the mulberries at twilight.' The fact of the horizon, light over the ridge, even as it shines unevenly, is grounding: 'we're all born grounded.' We share the fact of an embodiment however asymmetrically available to violences. One carries 'ruptured rules & words & shelter' and often literally. I Always Carry My Bones carries itself, past salvage or triage, the unevenness of light, to imagining—'we imagine / ourselves every moment'—where the body might carry itself, imagined anew. How the fact of one particular body's history signals all that was, 'memories in the cavities,' but also all that could have been otherwise. And how to imagine an otherwise. 'How, like an egg, a body maps out the body,' but also how it 'questions it, runs broken in the sun.'"—Jos Charles, author, Feeld

"'How do we speak out of the dust inside we will become?' Zamora asks, and the answer is bit by bit, poem by stunning poem. Through personal histories (hers and ours), coyotes, and language at times lush as moons and at times sober and simple as daylight, Felicia Zamora—one of my favorite poets—drags America to the desert and takes America to task, survives it, destroys it, renames it, and it's a blessing for our own weary brown to bask in what she's done and learned with the carrying of her own."—Danez Smith, author, National Book Award Finalist