Duck, Duck, Goose: Recipes and Techniques for Cooking Ducks and Geese, both Wild and Domesticated [A Cookbook] (Hardcover)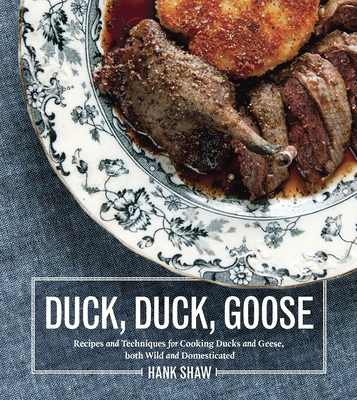 $25.99

NOT on our shelves now. Usually ships from warehouse in several days.
Description
---
A lush, illustrated cookbook devoted to preparing and cooking ducks and geese, both domestic and wild, from the author of the award-winning blog Hunter Angler Gardener Cook.
 
Duck is having a renaissance in American restaurants and kitchens as cooks discover that diverse breeds, species, and cuts of meat offer an exciting range of flavors and textures. Many cooks—and even hunters—have a fear of cooking fowl. Duck, Duck, Goose shows you how to cook duck and goose like a pro: perfectly crisp skin crackling with each bite, succulent confit, impeccable prosciutto, and more.

Hank Shaw, an award-winning food writer, hunter, and cook on the forefront of the marsh-to-table revolution, provides all you need to know about obtaining, cleaning, and cooking these flavorful birds. Duck, Duck, Goose includes detailed guides on species and breeds, selecting a duck in the market, and plucking and hanging a wild bird. Shaw's delicious and doable recipes include basics such as Grilled Duck Breast and Slow-Roasted Duck; international favorites like Duck Pho, Sichuan Fragrant Duck, Mexican Duck with Green Mole, and Cassoulet; and celebration-worthy fare such as Perfect Roast Goose. It also features an array of duck and goose confit and charcuterie, from fresh sausages to dry-cured salami.
 
The most comprehensive guide to preparing and cooking both domestic and wild ducks and geese, Duck, Duck, Goose will be a treasured companion for anyone who wants to free themselves from the tyranny of chicken and enjoy perfectly cooked waterfowl.
About the Author
---
HANK SHAW is the author of the book Hunt, Gather, Cook and the blog Hunter Angler Gardener Cook, which won the James Beard Award for Best Blog in 2013 and the IACP Best Food Blog award in both 2010 and 2011. Shaw has been featured on the Travel Channel's Bizarre Foods and his work has appeared in Food & Wine, Organic Gardening, Field & Stream, and the Art of Eating, as well as hunting and conservation magazines such as Delta Waterfowl, California Waterfowl Magazine, and Pheasants Forever. He lives in the Sacramento, California area. Learn more at www.honest-food.net.
Praise For…
---
"A Best Cookbook of 2013"—Sunset

"Hank Shaw elevates waterfowl to its rightful place in the culinary skies. He will teach you how to turn flesh into edible works of art without sacrificing practicality. I'll be reading—and using—this book for decades to come."
—Steven Rinella, author of American Buffalo and Meat Eater

"You don't have to be a hunter to want to cook duck and goose. Thankfully, Hank Shaw has demystified these birds for all to enjoy!"
—Chris Cosentino, chef-owner of Incanto and winner of Top Chef Masters

"Throughout history in Europe, Asia, and the Americas, the tasty, sustainable, and versatile duck has satisfied many happy diners. Whether you want to know the difference in taste between certain species or even how to make a duck hot dog, Hank's book is a perfectly thorough guide on everything you need to know about preparing duck." 
—Daniel Boulud, chef, restaurateur, and author of Braise

"Hank Shaw has produced a kind of 'ultimate cookbook,' which I found utterly fascinating. Here is everything you will ever need to know about ducks and geese, how to hunt them in the supermarket or in the marsh, and how to cook them."
 —Paula Wolfert, author of The Cooking of Southwest France and Mediterranean Cooking

"In my universe there is no bigger star than Hank Shaw. Passionate and learned, his writing provides the inspiration for those who don't live the outdoors lifestyle to be in the field and on the water. His recipes teach even the most expert cook how to use the right techniques for handling waterfowl in the kitchen and his wit and wisdom make Duck, Duck, Goose a superb read. With Holly Heyser's beautiful and practical imagery, this book delivers on its promise to make us all more competent cooks."
—Andrew Zimmern, host of Bizarre Foods and Andrew Zimmern's Bizarre World

"I grew up among avid duck hunters and have enjoyed many meals  of teal, mallards, and other wild ducks, and as a chef I've worked with every kind of domesticated duck. It's no secret that duck is one of my favorite things to cook. I love that this book exists! I hope it will inspire many more cooks to explore the wonderful flavor of wild and domesticated ducks."
—Traci des Jardins, James Beard Award-winning chef and owner of Jardinière

If your acquaintance with water fowl is limited to Peking duck and Christmas goose, then, welcome, because you're holding an invitation to a remarkable world of cooking. Hank Shaw's recipes, along with his inimitable prose, lure you into the kitchen, encouraging you to cook everything from whole birds to giblets; dishes smoked and drunken; Chinese, French, Laotian, and German; crispy and braised. Shaw's passion is so infectious, his knowledge so commanding, Duck, Duck, Goose is more than a cookbook. It's a culinary field guide to dishes delightfully exotic to comfortingly familiar.
—David Leite, author of The New Portuguese Table and publisher of Leite's Culinaria (LCcooks.com)