Whole-Grain Mornings: New Breakfast Recipes to Span the Seasons [A Cookbook] (Hardcover)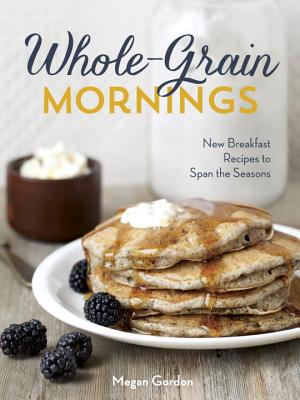 Not available to order
Hard to Find. Not available to order.
Description
---
A seasonal collection of enticing, comforting recipes for sweet and savory whole-grain breakfasts including granola, warm porridges, muffins, savory tarts and eggs—as well as seasonal toppings and accompaniments like homemade yogurt and almond milk, all from the writer of the popular blog A Sweet Spoonful.

A beautiful guide to morning meals, Whole-Grain Mornings offers sixty-five sweet and savory recipes for wholesome whole-grain breakfasts. Whether you're cooking for busy weekdays, slow Sundays, or celebratory brunches, this charming cookbook will inspire you to look beyond the average bowl of cereal toward healthy and delicious ways to incorporate whole grains like amaranth, farro, and barley into your morning meals.

Seasonally organized recipes feature favorite one-bowl breakfast fare like Apricot Pistachio Granola and Triple-Coconut Quinoa Porridge alongside more unconventional options like Saucy Tomato Poached Eggs with Kale and Wheat Berries and Nutty Millet Breakfast Cookies. With information on timesaving alternatives as well as a guide to the most commonly used whole grains—and sprinkled with abundant food and lifestyle photography throughout—this cookbook guarantees the most important meal of the day will also become your favorite.
 
About the Author
---
MEGAN GORDON is a writer, recipe developer, and culinary educator living in Seattle. She writes regularly for The Kitchn and on her blog A Sweet Spoonful. Her work has appeared in numerous national magazines including Better Homes and Gardens, Ready Made Magazine and the Edible publications. When not writing about food, Megan teaches cooking classes and bakes/operates her artisan granola company, Marge, which is distributed nationally and has been recognized by The Wall Street Journal and Sunset magazine. Megan lives in a little blue Craftsman house with her partner, Sam. Visit her blog at asweetspoonful.com.
Praise For…
---
"This is a brilliant book filled with whole-grain breakfast inspiration, and so much more. Megan is an entrepreneur, a storyteller, a friend, and my kind of cook (and baker!). With this book, she delivers a range of enticing, seasonally minded recipes to start the day, wrapped with her warm, generous, personal narrative. Breakfast Fried Rice, Huckleberry Cornmeal Custard, California Barley Bowl? She does  mornings right."
—Heidi Swanson, author of Super Natural Every Day

"Each page of Whole-Grain Mornings reveals a new grain I can't wait to try, a story that makes me smile, and a recipe that gets me excited to roll out of bed in the morning. If you thought whole grains were only for the health conscious, this book will prove you wrong. Megan Gordon shows us how delicious whole grains really are, and how, when we bring joy and love into breakfast, it sets the tone for the entire day. This is truly a book for everyone, and for every morning."
—Alana Chernila, author of The Homemade Pantry

"Whole-Grain Mornings is an honest story of a woman following her dreams, both in love and business. As Megan leaps into the unknown she shares the recipes of her life. These recipes are smart, methodical, and precise—they're sure to inspire homemade mornings in your own home."
—Kim Boyce, author of Good to the Grain

"If you're lucky enough to be invited for breakfast at Megan Gordon's house, you are lucky indeed. There might be baked pumpkin risotto. Or if you're really lucky, there might be caramelized nectarines with honeyed ricotta and quinoa crunch. Even on the earliest mornings, Megan makes the best granola I have ever eaten. If you can't go to her house, buying a copy of Whole-Grain Mornings is the next best option."
—Shauna James Ahern, author of Gluten-Free Girl Every Day