SPQR: Modern Italian Food and Wine [A Cookbook] (Hardcover)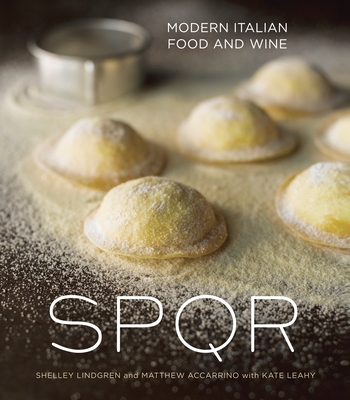 Description
---
A cookbook and wine guide celebrating the regional traditions and exciting innovations of modern Italian cooking, from San Francisco's SPQR restaurant.

The Roman Empire was famous for its network of roads. By following the path of these thoroughfares, Shelley Lindgren, wine director and co-owner of the acclaimed San Francisco restaurants A16 and SPQR, and executive chef of SPQR, Matthew Accarrino, explore Central and Northern Italy's local cuisines and artisanal wines.
 
Throughout each of the eight featured regions, Accarrino offers not only a modern version of Italian cooking, but also his own take on these constantly evolving regional specialties. Recipes like Fried Rabbit Livers with Pickled Vegetables and Spicy Mayonnaise and Fontina and Mushroom Tortelli with Black Truffle Fonduta are elevated and thoughtful, reflecting Accarrino's extensive knowledge of traditional Italian food, but also his focus on precision and technique.  In addition to recipes, Accarrino elucidates basic kitchen skills like small animal butchery and pasta making, as well as newer techniques like sous vide—all of which are prodigiously illustrated with step-by-step photos.
 
Shelley Lindgren's uniquely informed essays on the wines and winemakers of each region reveal the most interesting Italian wines, highlighting overlooked and little-known grapes and producers—and explaining how each reflects the region's unique history, cultural influences, climate, and terrain. Lindgren, one of the foremost authorities on Italian wine, shares her deep and unparalleled knowledge of Italian wine and winemakers through producer profiles, wine recommendations, and personal observations, making this a necessary addition to any wine-lover's library.
 
Brimming with both discovery and tradition, SPQR delivers the best of modern Italian food rooted in the regions, flavors, and history of Italy.
About the Author
---
SHELLY LINDGREN is the wine director and co-owner of both A16 and SPQR. She has received a James Beard nomination for wine service and was named Best New Sommelier by Wine&Spirits.

SPQR's executive chef MATTHEW ACCARRINO is the recipient of Star Chefs' San Francisco 2010 Rising Star Award.

KATE LEAHY is a freelance writer and the co-author of A16 Food + Wine.
Praise For…
---
"Shelly Lindgren and Matthew Accarrino have composed a book filled with their inspirations based on Italian regional cuisine and wines. It gives us a powerful insight into what makes SPQR one of San Francisco's favorite restaurants. It makes me wish I lived close by."
—Thomas Keller, The French Laundry

"Shelley Lindgren has done it again. First, there was her restaurant A16 and a stunning cookbook emerged from that still-marvelous restaurant. Then came SPQR. With the remarkable talent of chef Matthew Accarrino, it has become one of San Francisco's
finest restaurants, bar none. If you haven't yet heard of SPQR and Matthew Accarrino, trust me, you soon will. This book shows why."
—Matt Kramer, author and Wine Spectator columnist
 
"Matthew brings a sense of elegance and refinement to Italian cooking that seems at once natural and yet revelatory. There is a humanistic element to the cooking at SPQR that in concert with Shelley's wine service, creates a memorable and warm experience. I always look forward to returning."
—Christopher Kostow, chef, The Restaurant at Meadowood
 
"I am a staunch traditionalist when it comes to Italian cuisine, yet I love Matthew Accarrino's modern Italian cooking at SPQR.  His food is Italian in spirit but cooked in the region (paese) of California, using local ingredients, contemporary techniques, and infusing the food with soul and sophistication. Shelley Lindgren is my go-to goddess for Italian wine. A charming and delightful educator, she has extensive knowledge of Italian wine making and wine makers. But even more important, she seeks out little known wines from small regional producers. I learn and taste something new with every visit to SPQR."
—Joyce Goldstein, chef, author, and culinary consultant
 
"With well-thought-out recipes and little known wine pairings, discover a perfect
balance of contemporary flavor and technique with a soulfulness that is respectful of tradition. Through Matthew's passion and experience, SPQR will challenge you to become a better cook!"
—Rick Moonen, executive chef and owner of rm Seafood

Praise for A16: Food + Wine:
"This is a cook's cookbook; it deserves a quiet season filled with long chilly nights, the ideal time to enjoy its gutsy dishes."
—Gourmet