The Revolution of Everyday Life (Paperback)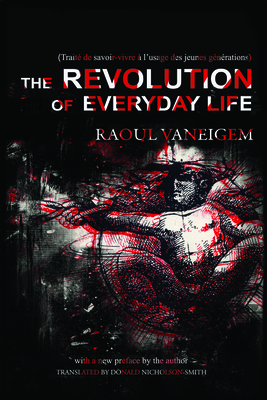 $20.00

NOT on our shelves now. Usually ships from warehouse in several days.
Description
---
One of the most important exponents of Situationist ideas, this treatise presents an impassioned critique of modern capitalism and serves as a cornerstone of modern radical thought. Originally published in early 1968, the book both kindled and colored the May 1968 upheavals in France that captured the attention of the world. In the political climate of today, Raoul Vaneigem's important work of radical anticapitalist thought has struck a new chord with the worldwide Occupy Movement. Naming and defining the alienating features of everyday life in consumer society—survival rather than living in full, the call to sacrifice, the cultivation of false needs, the dictatorship of the commodity, subjection to social roles, and the replacement of God by the economy—the book argues that the countervailing impulses that exist deep within this alienation, such as creativity, spontaneity, and poetry, present an authentic alternative to nihilistic consumerism. This carefully edited new translation marks the first North American publication of this important work and includes a new preface by the author and a translator's note.
About the Author
---
Raoul Vaneigem is a writer and a former member of the Situationist International and is a key theorist in the worldwide Occupy movement. His works include The Book of Pleasures, A Cavalier History of Surrealism, Contributions to the Revolutionary Struggle, A Declaration of the Rights of Human Beings, The Movement of the Free Spirit, and The Totality for Kids. Donald Nicholson-Smith is a former member of the Situationist International and a translator of the works of Guy Debord, Henri Lefebvre, Jean-Patrick Manchette, Thierry Jonquet, and Paco Ignacio Taibo II. He lives in New York City.
Praise For…
---
"The most striking aspect of Vaneigem's compendium of Free Spirit Lore is his ability to release the material into the present . . . you can almost feel the whole great edifice of social order—their Church, our capitalist democracy—gather itself up, take a deep breath, and run."  —Greil Marcus, author, Lipstick Traces on The Movement of the Free Spirit