Roaring Twenties Mixer's Manual: 73 Popular Prohibition Drink Recipes, Flapper Party Tips and Games, How to Dance the Charleston and More... (Food & Drink) (Paperback)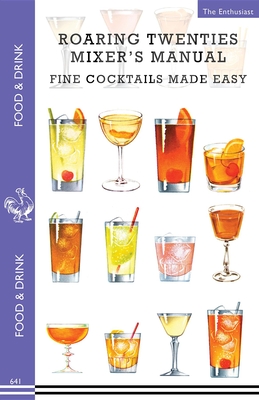 Not available to order
Stock uncertain--should fulfill within 10 days or so
(This book cannot be returned nor exchanged.)
Description
---
Hey flappers and sheiks Get a slant at the Roaring Twenties Mixer's Manual. It's the cat's pajamas for all kittens and guys wanting to throw a petting party that is the frog's eyebrow With over 70 authentic Prohibition era drink recipes (no noodle juice here.) Including such classics as The Manhattan, The Daiquiri, and, naturally, The Martini. And lots of crazy of-the-era drinks, such as the Tuxedo and the Za Za. It's the rumble that will make any biscuit pleasantly half cut and ready for some barney-muggins.
As if all those, carefully cultivated by barkeeps all over the world, drink recipes weren't kippy enough Roaring Twenties Mixer's Manual has a section devoted to definitions of the spirits of the era (only oilcans drink hooch right?) It also includes all the Ritz toasts (here's to you ) And (let's face it sweeties, you need this) rules for well thrown parities, including party games of the era, like the French variety of blind man's buff, which would shock your dapper. Even duds will have a hotsy totsy time at your whangdoodle, and that's no applesauce. And to top it all off Roaring Twenties Mixer's Manual contains detailed instructions for how to dance that real McCoy of nineteen-twenties hoofers, the Charleston. A dance so swell that it will have even the neckers shaking their dogs. So don't be a bluenose, pull out your anchor and get yourself a copy of Roaring Twenties Mixer's Manual before the buttons get here. Attaboy Attagirl Now, let's blouse.
About the Author
---
The Enthusiast exists to celebrate and promote genuine enthusiasm for enriching, elevating and entertaining subjects, including, but not limited to, art, history, literature, philosophy, science, cooking and sport.