Stir: My Broken Brain and the Meals That Brought Me Home (Hardcover)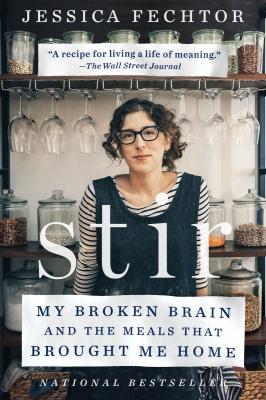 $28.55
Temporarily Unavailable
Description
---
A national bestseller and winner of a Living Now Book Award, Stir is an exquisite memoir about how food connects us to ourselves, our lives, and each other.
 
At 28, Jessica Fechtor was happily immersed in graduate school and her young marriage, and thinking about starting a family. Then one day, she went for a run and an aneurysm burst in her brain. She nearly died. She lost her sense of smell, the sight in her left eye, and was forced to the sidelines of the life she loved.

Jessica's journey to recovery began in the kitchen as soon as she was able to stand at the stovetop and stir. There, she drew strength from the restorative power of cooking and baking. Written with intelligence, humor, and warmth, Stir is a heartfelt examination of what it means to nourish and be nourished. 

Woven throughout the narrative are 27 recipes for dishes that comfort and delight. For readers of M.F.K.Fisher, Molly Wizenberg, and Tamar Adler, as well as Oliver Sacks, Jill Bolte Taylor, and Susannah Cahalan, Stir is sure to inspire, and send you straight to the kitchen.
About the Author
---
Jessica Fechtor's debut memoir, Stir: My Broken Brain and the Meals that Brought Me Home, chronicles her recovery from a ruptured aneurysm at age 28, and how she reclaimed her life through food and cooking. A national bestseller and winner of the 2015 Living Now Book Award, Stir has been praised by Oprah.com as "a page-turning pleasure," and by The Wall Street Journal as "a recipe for living a life of meaning." Fechtor lives in San Francisco with her husband and daughters. She doesn't believe in secret recipes.
Praise For…
---
"Pairing food with the nightmare of surviving a brain aneurysm shouldn't work—but under Jessica Fechtor's wise and wonderful narration, the pairing not only works, it shines."—Susannah Cahalan, author of the #1 New York Times bestseller Brain on Fire
 
"Jessica Fechtor writes with remarkable lucidity, courage, and grace about the darkest and brightest moments a person can know. Stir will feed you, even after the last page is turned."—Molly Wizenberg, creator of Orangette and author of the New York Times bestseller A Homemade Life
 
"Utterly captivating, engrossing, un-put-down-ably, terrifyingly magnificent. In a world filled with dross, Stir is breathtaking."—Elissa Altman, author of Poor Man's Feast
 
"Written with the flare of a novelist and the precision of an academic, Stir is a brave, beautiful narrative of illness and recovery. But it is not only that. It is a meditation on food and the kitchen, what it means to cook, and how the choices we make at the table can define who we are – and who we want to be."—Molly Birnbaum, author of Season to Taste 
 
"Fechtor's gentle lyricism cannot hide her fierce determination not only to survive, but to flourish."—Luisa Weiss, creator of The Wednesday Chef and author of My Berlin Kitchen
 
"Stir is a beautiful, sometimes sad, often heart-lifting story of putting back together what has fallen apart. It is a poignant reminder of how inexorably tied our hearts and minds are to our stomachs, and what a blessing that can be."—Tamar Adler, author of An Everlasting Meal
 
"Though Stir winds us through Ms. Fechtor's illness, its complications and ultimately her recovery, this book isn't a tale of sickness and health. And though it is filled with inviting concoctions…it isn't merely a book about food and how to make it. Rather, it's a recipe for living a life of meaning and an homage to the people in her life who nourished her."—Wall Street Journal
 
"An inspiring journey, with recipes. With a novelist's touch, Fechtor chronicles her recovery from a brain aneurysm that hit her as a Harvard graduate student at 28, sending her life on a far different path than she had imagined."—Seattle Times
 
"Charmingly peppered with personal recipes, [STIR] thoroughly inspired readers and immersed them in Fechtor's life against all odds."—Elle
 
"Jessica Fechtor blends the story of her near-fatal brain aneurysm with recipes as if it's a natural combination. And for someone with her optimism and modesty, it is. A feel good memoir."—Shelf Awareness

"Beautiful"—Pyschcentral.com
 
"With warmth, humor and clarity, she explains in Stir how cooking helped her to reclaim her life."—Columbus Dispatch
 
"Reading the book, I was compelled to reach for a pen every few pages, to underline things I didn't want to forget — things I had to remember."—The Forward
 
"Fechtor writes beautifully and is a warm, gracious guide through her own landscape of illness. Fechtor skillfully combines the sequence of events, memories of her earlier life, and her adventures in the kitchen."—Jewish Week