Imaginary Museums: Stories (Paperback)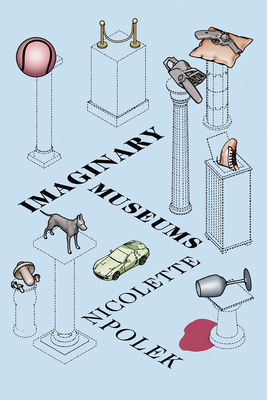 $15.95

ON HAND in at least ONE of our stores. Click through or call for up-to-the-minute availability.
January 2020 Indie Next List
---
"It's no small feat to establish a spellbinding presence in the span of 26 micro-stories, but Nicolette Polek pulls it off masterfully with Imaginary Museums. Her formula is so subtle that I can't really figure out how she achieves these literary sleights of hand with such consistency: one part magical realism here, a dash of unadorned honesty there, stir in some gallows humor, and serve chilled."
— Sam Faulkner, A Room Of One's Own Bookstore, Madison, WI
Summer 2020 Reading Group Indie Next List
---
"These sentences zag when you expect them to zig. And don't get me started on the zigging. Trying to recount any of these stories will take way longer than it will to read them; they are masterworks of compression that unfold into sagas of falconers and an air conditioning museum. But they also finish with tidy endings, landing the dismount from each impossible trick with a word, a gesture that somehow makes sense of the fantasia preceding. Oh, yeah: and it's really, really funny."
— Benjy Caplan, Green Apple Books & Music, San Francisco, CA
Description
---
"A collection of flash fiction that feels seemingly arbitrary with an ache of human longing for connection peppered in. . . . These bizarre but beautiful stories transport you elsewhere with no intention of bringing you back." —Ashleah Gonzales, W magazine

In this collection of compact fictions, Nicolette Polek transports us to a gently unsettling realm inhabited by disheveled landlords, a fugitive bride, a seamstress who forgets what people look like, and two rival falconers from neighboring towns. They find themselves in bathhouses, sports bars, grocery stores, and forests in search of exits, pink tennis balls, licorice, and independence. Yet all of her beautifully strange characters are possessed by a familiar and human longing for connection: to their homes, families, God, and themselves.
About the Author
---
Nicolette Polek is a writer from Cleveland, Ohio. She is a recipient of the 2019 Rona Jaffe Foundation Writers' Award.
Praise For…
---
Recipient of the 2019 Rona Jaffe Foundation Writers' Award
An American Booksellers Association Indie Next Selection

"Polek's imagery comes through like flashes in a silent film. In one memorably vivid scene, a landlord shows a couple a video of herself as a child, smashing strawberries into sheep's wool. Another narrator's grandfather falls in love at 26 with a woman who loves flowers; one day he sneaks into her house to water all her plants. But he doesn't stop there, watering her quilt, her phone and her carpet. This may seem destructive, or cruel, but in Polek's world, it feels more like beauty." —Maya Chung, The New York Times Book Review

"Imaginary Museums to me was like Michael Earl Craig combined with Lorrie Moore and Kafka and a nature documentary." —Tao Lin, The Believer

"A collection of flash fiction that feels seemingly arbitrary with an ache of human longing for connection peppered in. A few of the stories are left with loose ends, so you can decide the outcome which feels like a 'choose your own adventure' in a way. These bizarre but beautiful stories transport you elsewhere with no intention of bringing you back." —Ashleah Gonzales, W magazine

"Polek's stories are themselves trapdoors, to worlds that, though they feel like they could be our own, are separated to some degree by elements we might construe as strange in our everyday life." —Alex Jiménez, The Daily Californian

"These sad, sharp, sometimes satirical snapshots are well worth your time. Do not walk past them too quickly or you will miss Polek's remarkable and necessary glimpses into the human heart." —Charles Ellenbogen, Cleveland Review of Books

"Imaginary Museums reads like a kind of Twilight Zone, in which everyday people living their everyday lives find themselves in a prison of their own making. There's something dark about them, but then you turn the page and find yourself laughing at her dry wit. Each story is tightly coiled, brightly polished, and they're all a delight to discover." —Katie Yee, Literary Hub

"These stories—more accurately categorized as flash fiction—are parable-like sketches, elegantly rendered, ranging from uncanny to mythical . . . Polek's stories are not without a sense of profound grace . . . The beauty of these stories rests in their simplicity and control." —Leah Rodriguez, Paperback Paris

"A yearning lives under these stories . . . A slim volume of even slimmer stories that pack a quiet darkness, a silent wonder, and a grounded reality amidst beautiful absurdity." —Chelsea Sutton, The Adroit Journal

"Delightfully different, Imaginary Museums still happens to hit upon the human urge for connection, acceptance, and a higher power." —Sophie Matthews, Women.com

"Trapdoors shine and exits shimmer in Nicolette Polek's debut collection of short stories Imaginary Museums . . . These stories are spare, but full and memorable . . . Polek helps us see, through a dark and mundane world, the strange, wavering light. We need that light. And now, maybe more than ever, it can be hard to make out." —Bella Bravo, Mask

"In Polek's deliciously unnerving debut, the mundane is made very strange, as everyday objects or normal people are considered in new and unsettling ways . . . A surprising and potent catalogue of small, eerie discoveries." —Publishers Weekly (starred review)

"Nicolette Polek's Imaginary Museums is a collection of pressure-cooked little diamonds: smart, funny, succinct, and sure to be a classic. People will be reading this book for a long time." —Juliet Escoria, author of Juliet the Maniac