Sinner Takes All: A Memoir of Love and Porn (Paperback)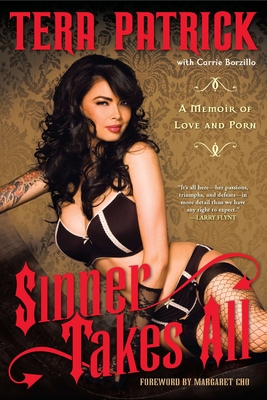 Not available to order
Stock uncertain--should fulfill within 10 days or so
Description
---
The world's #1 porn star strips down about life, love, and everything in between.

Tera Patrick wasn't always Tera Patrick. Once upon a time she was a gangly, teenaged bookworm named Linda Ann Hopkins, obsessed with serial killers and Marilyn Monroe and determined to make men all over the world one day desire her. And she succeeded: Today she sits atop the porn world and runs her own multimillion-dollar empire.

Sinner Takes All is a sexy and deeply personal memoir in which Tera bares all about baring all. Tera discusses leaving home as a teen to work as an international fashion model, losing her virginity at age fourteen to a man twice her age, working as a nurse at a senior citizen's home, her on- and off-screen sexual escapades, and the emotional obstacles that she's had to overcome, including a strained relationship with her mother, deadbeat boyfriends, and a suicide attempt that led to a stint in a locked-down psych ward.
An honest and naked look at a one-of-a-kind life, Sinner Takes All is a riveting memoir of the making of a modern sex goddess.
About the Author
---
Tera Patrick is a retired adult film star and spokesmodel. She has been featured on the covers of Playboy, Maxim, and Penthouse magazines, and wrote the "Ask Tera" advice column in FHM magazine for five years. Patrick has made many television appearances, including spots on Chelsea Lately, Carson Daly, Big Idea with Donny Deutsch, Howard Stern, MSNBC, and Fox News. She lives in Los Angeles.

Carrie Borzillo is an author, journalist, and model. Born in Connecticut, Borzillo graduated from Southern Connecticut State University with a degree in journalism and has written about music for the likes of Billboard, Spin, Rolling Stone, and Alternative Press. Her work has also appeared in People, E! Online, Entertainment Weekly, Us Weekly, and more. She is the author of Cherry Bomb and coauthor of Sinner Takes All. She lives in Los Angeles.
Praise For…
---
"Even porn stars have romantic illusions. Just take a stroll through the new Sinner Takes All by Tera Patrick. The fast-reading memoir whips from knowing to naive and back as it tracks its plucky protagonist from ugly-duckling school days to international adult superstardom."
-Dallas Morning News

"Sinner Takes All lets fans and interested parties alike get the down and dirty details on the personal and professional life of one of the biggest names in a multi-billion dollar industry."
-Seattlest

"I can think of no one more fascinating than Tera Patrick-porn star, model, and businesswoman-as readers of this book are certain to agree. It's all here-her passions, triumphs, and defeats-in more detail than we have any right to expect."
-Larry Flynt

"This book is an inspirational read with a clear message: There are no limits when one is determined, motivated, and driven."
-Dave Navarro

"Orgasms, like laughter, can be faked, but it's better when they're not. Tera doesn't fake anything in this revealing and inspiring book."
-Margaret Cho

"She's a girl who knows what she wants and gets it. That's what's cool about Tera Patrick."
-Carmen Electra